Jubilee youths to 'thwart Cord's IEBC protest'
Nairobi Jubilee youths to 'thwart Cord's IEBC protest'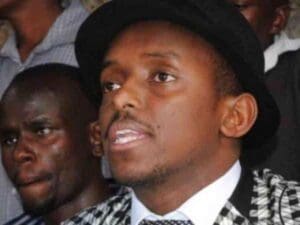 A Nairobi Jubilee youth leader has threatened to mobilize youths to "protect destruction of businesses" by Cord supporters during their weekly anti-IEBC demos.
James Wanjohi said on Sunday that they will assist the police in ensuring "no looting on business premises and motorists" during the Monday demonstration organized by the opposition.
"Anything that is going to harm businesses within the CBD tomorrow will be thwarted, we are tired of these demos because our people are losing millions to some hooligans and thugs," Wanjohi said.
Last Monday, protestors harassed citizens within the CBD and snatched them their belongings.
In Kakamega, the planned anti-IEBC demonstrations have been criticized by a section of leaders from the county.
Mayiakalo MCA Cleophas Malala opposed the intended move that is spearheaded by Senator Boni Khalwale.
Malala said such protests should only be held in Nairobi where the IEBC headquarters are situated.
"Therefore, the intended demonstrations in Kakamega are misguided and a waste of people's active time" Malala said.
He said the demonstrations will lead to interruption of business which will hurt the economy.
Homa Bay County Commissioner Kassim Farah said they will arrest and prosecute anybody who will be involved in any illegal demonstration in Homa Bay.
Farah said they have already identified some individuals who were involved in last Monday's anti-Independent Electoral and Boundaries Commission protest and "will be arrested and prosecuted".
"As the chairman of the County security team, it is my mandate to ensure that peace prevails in my area of jurisdiction by protecting property and lives of the people," Farah said.
"I will not allow anyone to disturb the peace of our people through illegal demonstration and anybody who will be found to have engaged in such an exercise will face the full force of the law".
Cord has vowed to push on with the weekly demonstrations to pile pressure on IEBC commissioners to resign, saying they do not trust the current officials to oversee the 2017 general elections.