Kenyan men who stick with their wives through thick and thin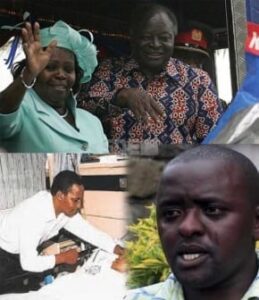 Kenyan men who stick with their wives through thick and thin
During weddings, couples vow to stick together "for better or worse" without really letting it be known that what they really mean is "for better or best."
Before God, relatives, friends (and not a few enemies), most also promise to remain cheek by jowl lovers "in sickness and in health."
Come to think of it, that should read "in health and wealth," for some spouses – read women- would flee at the slightest whiff of sickness and brokenness.
While kuvumilia has been the preserve of women, there are men who have stuck with their spouses come rain, hell or high water.
Indeed, couples who stick around when tests come in proportions akin to that faced by Biblical Job, have won public admiration for their resilient spirits.
One perfect example is former president Mwai Kibaki, who stood by his wife, the late former First Lady Mama Lucy Kibaki, whose illness saw her miss his farewell party after his term ended in 2012. Mama Lucy was said to have suffered from acute arthritis and Kibaki was by her side in and out of ICU until she died at the Bupa Bromwell Hospital in London.
The other remarkable example is that of Wanyiri Kihoro, the former Nyeri Town MP. His late wife, Dr Wanjiru Kihoro, was injured in a plane crash in 2003 before slipping into a coma for three years, a situation that sapped him both financially and emotionally. But he did not waiver.
Wanjiru suffered head injuries and was admitted to the private wing of Kenyatta National Hospital's ICU, where she was fed through one tube while air was pumped into her lungs through another.
Wanyiri told the BBC that even when his wife was in a coma, they developed their own communication code and "she would open and shut her eyes when I request her to do so." Sadly, his wife died in 2006, but Wanyiri says he did not feel that the three years were that long.
"It might have been difficult seeing Wanjiru in that condition day in, day out, but it was still better to be able to see her. She was my friend, my wife and the mother of my children. I wrote three books at that time just to distract myself, you know, just to keep my sanity. The mind is vulnerable. If you are not careful, you can die before your sick loved one," he told a local daily at the time.
Another man, James Mburu from Njoro in Nakuru County and who was featured in this newspaper recently, won the hearts of many readers after choosing to stick by his diabetic wife.
In October 2013, Mburu's wife, Grace Muthoni, was taken ill when she was five months pregnant. They have moved from one hospital to another seeking treatment, and her condition even forced Mburu to quit his job to take care of her.
"I love my wife. I cannot ask God questions because He knows why this is happening, nilimchukua kwa wazazi wake akiwa mzima (when we got married, she was in good health). I don't know what happened," he emotionally told The Nairobian.
"Please pray for me, I don't know what to do anymore. I will continue to take care of my wife until she gets well because I love her so much," he added.
He ensures that she has eaten a well-balanced diet which includes, fish, kienyeji chicken, porridge and fruits (all of which have to be specially prepared and blended as she still feeds through tubes). Mburu spends about Sh17,000 weekly to take care of Grace. Mburu has been greatly helped through harambees from well-wishers all this time.
-sde.co.ke