MUGABE RANTS OVER UNPLEASANT FOOD IN STATE HOUSE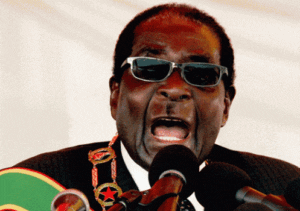 Mugabe rants over unpleasant food: A recording of Zimbabwe president Robert Mugabe complaining about the food in State House has gone viral on social media eliciting mixed reactions.
In the audio recording that was first leaked online last week, President Mugabe, who spoke in Shona language during a past event, faulted the First Lady Grace Mugabe for hiring and firing inexperienced chefs who convert him to a food "guinea pig."
Mugabe rants over unpleasant food:
President Mugabe lamented that his wife is rarely in the country leaving him at the mercies of inexperienced chefs.
According to a translation of the recording published by The Standard in Zimbabwe, the president said:
"I am a guinea pig; they learn how to cook on me. I sometimes say, don't you take cooks from hotels, but they can't because they will need to be vetted by the security guys."
BADLY COOKED FOOD
Amid laughter from the crowd that is said to have composed of close family and friends, the president termed his food as unpalatable.
"Sometimes that food is badly cooked that you tend to wonder if that will be the food prepared for a president of the people."
President Mugabe rarely speaks about his family but on this occasion he revealed a lot including how his recently married first born daughter will have to learn how to cook from her husband.
"Omar (Bona) left before she prepared sadza (cooked cornmeal that is the staple food in Zimbabwe) for me. The ball is in your court Simba, you will have to teach each other," said the President according to The Standard's translation.
"We are used to sadza, not potatoes. But don't come back saying she cannot prepare sadza because I have warned you…We will hit you with a knobkerrie," Mugabe said, amid wild laughter from the audience.
-nairobinews.nation.co.ke