SONKO WALKS INTO KNH WITH BUNDLES OF CASH TO CLEAR BILLS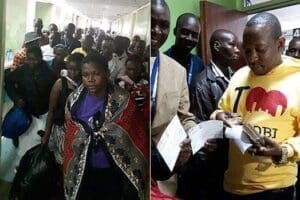 Nairobi Senator Mike Sonko spent the better part of  Madaraka Day at Kenyatta National Hospital's Burns Unit paying bills for patients.
The flambouyant politician walked into the facility with bundles of cash to offset bills for patients who had been detained at the facility for months due to non-payment of bills.
Sonko mingled freely with the patients in the Burns Unit in what he later termed as "celebrating Madaraka Day in style."
He also visited Mary Kibwana Kamango, a Kenyan house help who is nursing serious burns sustained while working in Jordan.
"I was shocked that a big number of patients at the hospital had been discharged, some even two months ago, but had been detained by KNH due to non-payment of hospital bills," Senator Sonko said in a Facebook post.
"I therefore dedicate today (Madaraka Day) to assisting individuals and families at the ward that houses patients with burns from various sources of fire such as electricity, stoves, gas.
"I managed to pay medical bills to all the patients who had suffered from severe burns but had been discharged but were detained over non-payment of bills. This I did without considering their religious, ethnic or political affiliation," he said.
-nairobinews.nation.co.ke