Uhuru, Raila to chair separate meetings on IEBC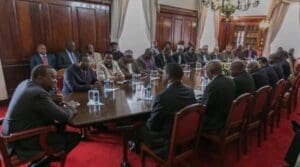 NAIROBI, Kenya, Jun 9 – President Uhuru Kenyatta was to chair a Parliamentary Group meeting of the Jubilee coalition Thursday morning to agree who will represent the coalition in the joint select committee that will collect views on the Independent Electoral and Boundaries Commission (IEBC) impasse.
On Wednesday, President Kenyatta announced formation of the Joint Select Committee of both Houses of Parliament, signalling an end to the stalemate that had threatening to get out of hand.
He made the announcement after a meeting with religious leaders and Speakers from both the Senate and National Assembly.
During the meeting, the Head of State emphasised the need to forge ahead on the issue but within the confines of the Constitution.
He had made it clear that everyone needs to respect, uphold and defend the Constitution describing it "as an obligation and not an option."
CORD leader Raila Odinga who welcomed the formation of the joint committee was also to hold a meeting Thursday with MPs from CORD where he was to announce the coalition's position on the formation of the committee and review the necessity of the weekly protests against IEBC.
By SIMON NDONGA