Why DP Ruto is reaching out to Kalenjin rebels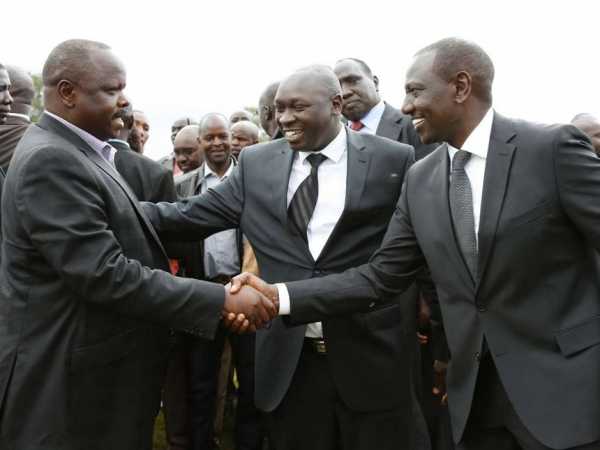 Deputy President William Ruto is rolling out a carefully orchestrated plan to quell the rebellion in the Rift Valley and consolidate his support base ahead of 2017.
The aim is to bring all instigators of the anti-Ruto wave back into the fold, say his close confidants.
The DP has been on the receiving end of rebels' accusation for a long time, however, he shows every indication he is ready to work with them as he tries to galvanise support in the vote-rich Rift.
A number had complained Jubilee has not fulfilled key campaign pledges and that Ruto has not used his influence to improve their lives. They say Mau Forest evictees have still not been resettled and maize farmers have complained about low prices. They accused Ruto of being inaccessible, which he has sought to correct.
Now some are responding positively, thinking of their own political futures.
According to Jubilee insiders, Ruto has crafted a game plan whereby Rift Valley leaders will "speak with one voice" ahead of the polls next year.
Ruto is also reported to be keen that all sitting MPs from his backyard, who were elected in 2013 on Kanu and other tickets, return to the Jubilee Party.
In a clear indication that his strategy has started working, Ruto last week officially welcomed four leaders from West Pokot who had decamped to the Jubilee Party from ODM and Kanu.
They are West Pokot Governor Simon Kachapin, Kapenguria MP Samuel Moroto, former Kapenguria MPs Julius Murgor and John Lodinyo.
"The interests of Rift Valley are well taken care of when we all come together. The DP is keen to see that all of us from South, Central and North Rift speak in one voice, especially now the next general elections are approaching," Buret MP Leonard Sang said.
"The plan is for all of us to unite behind the DP and Jubilee government. Ruto will take over from President Uhuru Kenyatta, therefore, we will be better off approaching the elections as a united community rather than when we are disintegrated," he said.
Ruto is aware of the potential falling out, anxiety and cold feet developed by some MPs and governors over the URP and TNA merger to form the Jubilee Party. Thus, he is said to have assured the region's leaders the 2017 nominations will be free and fair and they won't be overlooked.
Though Bomet Governor Isaac Rutto seems undecided whether to support the DP, other mutinous leaders are now scrambling to mend fences with Ruto. They include rebel leaders Oscar Sudi (Kapseret), Alfred Keter (Nandi Hills), Zakayo Cheruiyot (Kuresoi South) and State House Political Affairs advisor Joshua Kuttuny.
Kuttuny, who for a time did not see eye-to-eye
with Ruto, has recently been seen flying in the same chopper with the DP.
A week ago, Kuttuny hosted Ruto in Cherangany constituency before accompanying him to West Pokot.
He also has been playing the role of peace broker between the DP and Sudi, Rutto, Cheruiyot and Keter, among other leaders from Rift Valley.
Ruto is also said to have approached Kuresoi North MP Moses Cheboi and Belgut's Erick Keter to work with him.
Both Cheboi and Keter were elected on a Kanu ticket.
Sudi, who has softened his hard-line stance and is keen to regain the DP's favour , yesterday told the Star he was not against the DP but was out to fight corruption in government.
"Some people believe we have decamped from Jubilee, but I assure you that we are not moving out. We have resolved to remain united and more so behind the DP. We recognise Ruto as our leader and those spreading rumors that we will seek reelection through another party will be shocked. We are going nowhere. Instead I will fight from within Jubilee to ensure all pledges to the electorate are fulfilled,"he said.
Ainamoi MP Benjamin Langat said the move by the "rebels"to accept to work with DP "is welcome but should be unconditional".
"The coming together of all the Rift Valley leaders is a good sign that as a community we are united behind the DP. I am only calling for my fellow leaders to do so with honesty. Our brother and leader William Ruto is preparing to take over the leadership of this country after President Uhuru in 2022 and this is the best time to unite for that mission,"Langat said.
Prominent persons who vigorously campaigned for Raila /Cord ahead of the March 4, 2013 presidential elections despite the URP/Jubilee wave that swept the Rift Valley but hare now with Ruto include former ODM chairman and Industrialization minister Henry Kosgey who is said to be eyeing the Nandi County governoship, former Roads minister Frankline Bett, former East African Affairs minister Musa Sirma and former Higher Education minister Margaret Kamar.
Leaders that Ruto is still keen on taming include Kanu chairman Gideon Moi, West Pokot Senator John Lonyangapuo and Bomet Governor Isaac Ruto who are strongly opposed to the Jubilee merger.
The only other leader who has had an almost complete control of the Kalenjin Community was retired President Daniel arap Moi who despite a few pockets of dissent had a grip on the Kalenjin sub-tribes of Nandi, Kipsigis, Keiyo, Marakwet, Tugen, Pokot and Sabaot.