Moi distances Kanu from CORD activities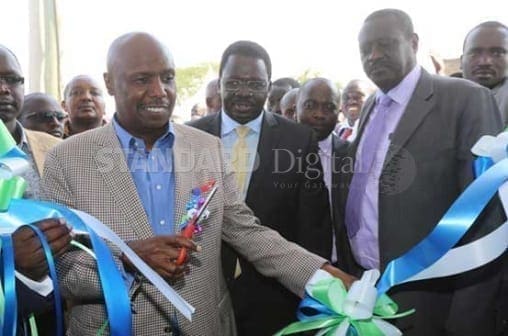 Kanu national Chairman Gideon Moi has distanced the former ruling party from any activities associated with the Coalition of Reforms and Democracy (CORD).
Speaking at Marigat in Baringo County, Senator Moi said Kanu only joined CORD to demand reforms at the Independent Electoral and Boundaries Commission (IEBC). "We have achieved our mission as a party and I now direct my soldiers back to the barracks. It is paramount for everybody to know that a reformed electoral commission translates to peaceful elections and a prosperous nation," he said.
The Baringo senator asked Kenyans to resist attempts by politicians to force them into voting along certain lines in the 2017 polls, saying the electorate must be allowed to choose the leaders it wants.
Gideon, who was speaking during the opening ceremony of the 22nd Transnational Bank branch in Marigat town yesterday, asked leaders to give dialogue a chance.
"Soon, aspiring leaders will come back to the people with their policies. It is proper to give the people a chance to make their own decisions without being forced," he said.
He asked the government to ensure the projects it promised in 2013 are delivered before the polls. He said the pledge to tarmac the Marigat-Karandi road, which connects Laikipia and Baringo, was long overdue.
"On this one, they should move with speed and construct the road or forget votes from this region,'' he said.
Gideon handed over 13 tractors to the Marigat Co-operative Society courtesy of the Kenyan and Japanese governments at a subsidised loan to be paid through Transnational Bank. He asked the government to consider waiving the millions of shillings owed to the Agricultural Finance Corporation (AFC) by farmers in Eldama Ravine and the Perkera Irrigation scheme in Marigat.
Dr Henry Kiplagat, Transnational Bank chairman, asked farmers and businessmen to take advantage of the institution to expand their activities.