Mudavadi attacks Raila over 'Luhya are stupid' remarks,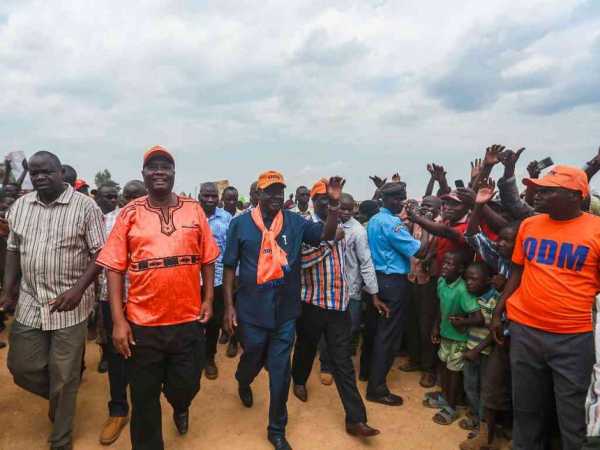 Musalia Mudavadi has warned Cord leader Raila Odinga against insulting Luhya community, claims that the latter has said have been put out of context.
The ANC leader claimed that Raila said the Luhya community are "Wapumbavu tena wapuzi" (ignorant and stupid) during his 5-day western tour.
"I have been taken aback; was this truly the same Raila the community has supported for over a decade or a reincarnated Joseph Kamotho of the 'watchmen and cooks' fame," Mudavadi said.
"The Luhya community has endured great humiliation supporting Raila."
The ANC leader asked Raila why he held the community in ridicule and treated its members with condescending contempt.
But Star reporters on Raila's trail said that the utterances were not as claimed by the Mudavadi group.
They said Raila was categorical that those who were out to divide the Luhya nation for their selfish gains were 'wapumbavu'.
"Wale ambao wanagawanya waluhya ni wapumbavu. Msije mkakubali kudanganywa. Tubaki pamoja na tushinde tukijua ya kwamba adui yetu ni Jubilee . (Those out to divide the Luhya community are silly. Do not be lied to. Our common enemy is the Jubilee government," Raila said in one of the stops during his western tour.
It was this comment – which insiders in ODM have said was put out of context -that seemed to have irked a section of the community, particularly those affiliated to ANC.
"Is it his gratitude that the support has been because Luhya are Wajinga? As a community we feel we have been irreparably violated by Raila," Mudavadi said.
He further said it was inalienable right to be a Luhya, belong to Luhya community and make political choices as the Luhya community.
"It is least expected that Raila will join the company of DP William Ruto who lately leads the dangerous trend of stripping the community of its human dignity," Mudavadi said.
Mudavadi in a statement on Friday said days are numbered for "devious schemes" that hold the community in political servitude.
"Western is not an extension of other peoples' political fiefdoms. Mulembe nation and unity will thrive," he said.
Speaking separately, Chairman of the Luhya Elders forum said Raila's statements are quite "unfortunate and demeaning".
"They only serve to reduce the gains we the people of "mulembe" have worked hard to inculcate in our people to ensure a peaceful coexistence," Patrick Wangamati said.
Wangamati warned Raila against making such "arrogant statements" adding "they are not helpful to his political and leadership aspiration.
Noting that it may leave him more harmed politically, Wangamati said he will call upon Luo
elders council to meet and find out ways of ensuring there still exists a peaceful and respectful coexistence.
Raila was addressing a rally in Malaba town on Thursday during his tour of Western when he made the utterances.
The Cord leader will conclude his tours of Western today with a rally in Kakamega, after successful meetings in Vihiga and Busia counties.
Raila has been holding rallies to counter forays by Jubilee after the steam for his bid appeared deflated by the exit of his stalwarts from the region among them his secretary general Ababu Namwamba.