We Are In Nasa To Stay, Says Musalia Mudavadi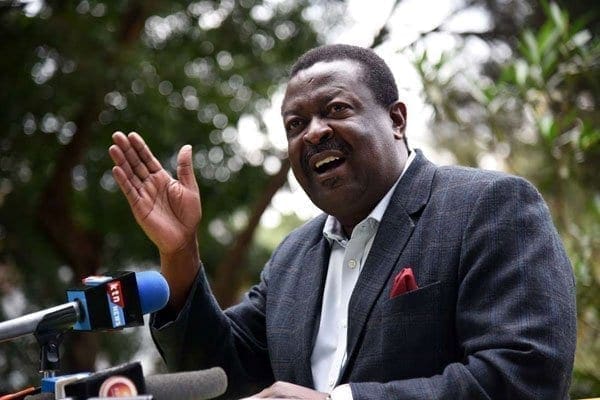 Amani National Congress leader Musalia Mudavadi on Wednesday came to the defence of his brainchild, the troubled National Super Alliance (Nasa), pleading with his co-principals not to desert it following publicised disagreements over its future.
Mr Mudavadi, who introduced Nasa into the political fold, before it was accepted by opposition leader Raila Odinga, and later by Wiper's Kalonzo Musyoka and Moses Wetang'ula of Ford-Kenya, said the coalition was not "dead" as claimed by Mr Wetang'ula.
Issuing a reconciliatory call, Mr Mudavadi warned that if Nasa were to collapse, Kenyans' faith in democracy and the Opposition would be undermined.
"If we continue quarrelling as the opposition, we will end up breaking the hearts of our supporters and weaken the opposition and undermine our democratic gains," said Mr Mudavadi at Malinya Stadium in Ikolomani on Wednesday.
NEXT ELECTIONS
"Nasa is my brainchild and I am determined to do everything possible to ensure it remains intact and is strengthened as we focus on preparations for the next elections in 2022," Mr Mudavadi said.
Mr Wetang'ula had on Monday termed the coalition "history which cannot be repeated," an issue that angered Mr Odinga's ODM, which asked Ford Kenya to relinquish all parliamentary and House leadership positions.
Mr Mudavadi said none of the parties which formed Nasa had formally written to the Registrar of Political Parties asking to be removed from the coalition.
He said the country required a strong opposition to check the excesses of the government in power and added that despite the wrangles triggered by the March 9 handshake between President Uhuru Kenyatta and ODM leader Raila Odinga, Nasa was "alive and well."
He said he was exploring ways of resolving the misunderstanding in the coalition and was keen on rebuilding Nasa to form a formidable opposition.
DISSOLVING COALITION
"In truth, writing formally to the registrar of political parties and notifying the members is the only legal way of killing or dissolving a coalition. Yet in Kenya's decade-long history of coalitions, parties routinely change form, dissolve, oppose or join others long before they actually do," said Mr Mudavadi.
Within Nasa itself, politicians from separate Nasa member parties have dared each other in public, with Mr Mudavadi's own party yesterday threatening to stop funding the coalition.
ANC Parliamentary group chairman Ayub Savula yesterday said the party will today have a meeting to ratify a decision to withhold contribution of funds to Nasa and instead channel them to the ANC secretariat.
"Nasa is a vehicle that has stalled, but it still has the logbook. So we will retain the logbook by having it remain only a coalition in documents, but we will not fuel it. We will re-route the funds we give them to rebrand our own parties," Mr Savula said on the telephone.
–