Pentagon formed for Deputy President William Ruto in 2017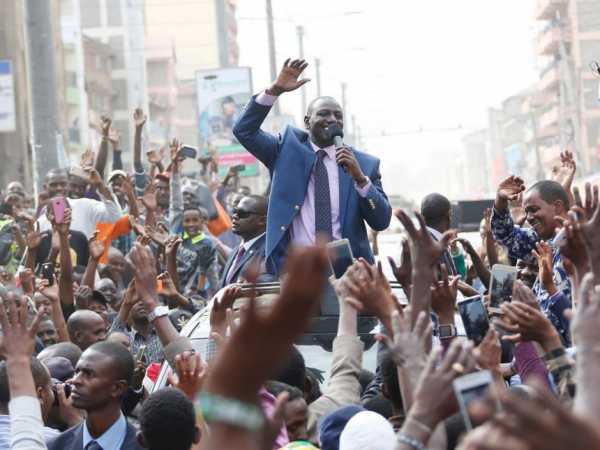 Deputy President William Ruto is planning to set up a Pentagon structure and strategy to help him consolidate his political support in Jubilee.
The team, according to people close to him, will play a bigger role after next year's election as the DP hopes to start his 2022 State House bid in earnest.
"We have started preparing to help President Uhuru Kenyatta to retain his seat next year. Once we do that, our real work will start. It will be to get Ruto to succeed Kenyatta," said one of the people in the team.
Ruto's team has Devolution Cabinet Secretary and former Laikipia East MP Mwangi Kiunjuri, Machakos Governor Alfred Mutua, Meru Senator Kiraitu Murungi, Dagoretti North MP Dennis Waweru and Kilifi North MP Gideon Mung'aro.
Energy Cabinet Secretary Charles Keter and deputy Senator majority leader Kipchumba Murkomen are earmarked for critical roles, going forward. It remains unclear what Ruto wants them to do, especially because the two are very close to the DP.
The Pentagon team is yet to have any formal meeting, but Ruto has quietly been working with each one of the five as he tours their regions.
In what appears to be based on Cord leader Raila Odinga's 2007 Pentagon Presidential campaign blueprint, the DP is hoping that the five will help him consolidate his support in their respective regions next year, which he can deliver to Kenyatta.
Ruto was instrumental in the crafting and execution of an ambitious strategy for Raila's 2007 Presidential campaign.
Ruto has promised to campaign for Kenyatta again and run for President in 2022.
The team could be expanded after the elections to include someone from Western Kenya. It is understood Ruto is hoping Ababu Namwamba will ditch ODM and join him.
As part of his plan, Ruto will hold harambees across the country accompanied by his Pentagon, most of them from next year.
Ruto has been on a massive harambee trail across the country, donating millions to various groups, schools, churches and hospitals.
Most of his events feature bundles of cash, including one in Kilome on Wednesday last week where he handed over Sh5 million for table banking.
The DP is also banking on his wife Rachel to win women voters' hearts and minds through her table banking philosophy, under the Joyful Women Organisation, and has attracted a lot of support across the country.
Although Cord has frequently questioned the source of Ruto's unrivalled cash donations, the DP has laughed off the criticism and maintained that nothing will stop him from assisting the less fortunate.
The DP receives a lot of harambee requests from MPs and leaders of all walks of life and has to juggle between regional balance and political interest in picking the areas to visit for fundraisers over weekends.
Both opposition and Jubilee MPs jam the DP's office at Harambee House Annex (opposite the Office of the President) to present various requests for monetary assistance in various projects in the constituencies.
The DP is already said to be strategising for a political alliance with Western, in a bid to wrest as much of the region from the opposition as he can. Western is a Cord bastion.
Raila's 2007 Pentagon constituted Ruto (Rift Valley), Raila (Nyanza), Najib Balala (Coast), Joseph Nyagah (Eastern) and Musalia Mudavadi (Western).
"We have already mapped out our targets, now it is about reaching out to them and building trust ahead of 2022; what is involved in the strategy is multi-pronged and brings on board the country's major ethnic tribes," said a close ally of Ruto's who works in his strategy team.
Yesterday a group of people who style themselves "Kalenjins Living in Nairobi" called a media conference to announce they had defected to ODM because they did not believe that President Kenyatta's community would back Ruto as promised.
Led by Kalenjin Association vice-chairman Robert Cheruiyot, the group said, "We do not want to be hurt anymore".
Cheruiyot said they decided to "come back home" after realising it is only through ODM that the community will regain power.
He said they are convinced Jubilee is an alliance of individuals, not communities.
"We must choose to stand up and be counted. We want to be on the right side of history," he said.
Cheruiyot said they will mobilise support for Raila in the Rift Valley.
"For the past month, the Kalenjin community has been left in a state of suspended animation with regard to their political future," he said.
Noting statements have been "thrown left, right and centre by notable persons", Cheryuiot said: "We know the game. We can't wait to be humiliated at the eleventh hour."
He underlined their support for Cord.
"We were the founding members of the ODM party. We were misled into leaving the party in 2013 because of one person's selfish interests," he said.
"We were promised heaven, only to be subjected to hell. The last three years have been like persevering in an abusive marriage."
Wandayi, Nyando MP Fred Outa and ODM Nairobi chairman George Aladwa received the group.