DP Ruto takes Jubilee campaigns to Nyanza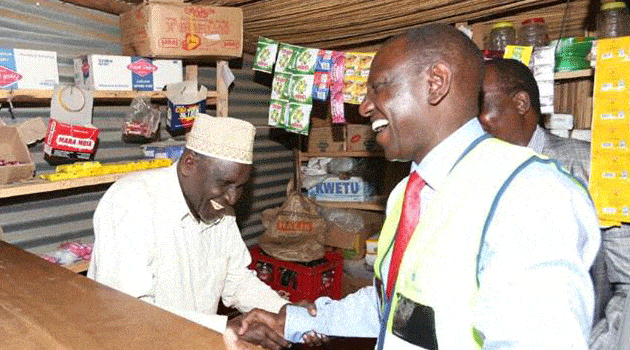 MIGORI, Kenya Aug 6-Deputy President William Ruto has called on people of Luo Nyanza to support the Jubilee Government re-election in next year's polls.
Ruto said although, the region supports CORD leader Raila Odinga, it would be wise if they supported a winning team.

"We know you support baba (Raila Odinga) but it wouldn't be a bad idea if you vote for us as well because you can see how things are going in the country," he said when he launched the Last Mile Project, (electricity connection in rural areas in the country) at the Osiri-Macalder Gold Mine and Osiri Secondary School in Nyatike.
Ruto also asked the residents not to dwell on politics throughout their lifetime advising them that sometimes it is important that development takes the lead and politics is given a break.
"You people of Migori can see where most Kenyans are gravitating to. You also need to calculate and see who will carry the day in the elections," he said amidst cheers and laughter.
The Deputy President was accompanied by Energy Cabinet Secretary Charles Keter, Nairobi Women Representative Rachel Shebesh, Lugari MP Ayub Savula, Kuria West MP Mathias Robi, Migori Deputy Governor Nelson Mahanga, Kenya Power Chairman Kenneth Marende and Kenya Power Managing Director Ben Chumo among others.
He asked Kenyans to focus on development and not the 2017 elections because it will be a one day event.
"Elections are a one day event. It comes and goes and life and development must continue. We do not want politics that divides Kenyans on the basis of tribe, region or faith. We want politics to be a competition of policies." he said.
Ruto called upon leaders to engage in political competition based on policies and ideologies and not tribalism.
The Deputy President asked Kenyans to shun tribal and divisive politics and elect leaders who can transform their lives.
He also assured that the Government will support the mining sector in the region by powering the gold mines, mechanizing the mining process and marketing their gold.
"The Government passed a bill that will protect the interests of every stakeholder in the mining sector including the miners. We must eliminate brokers in this business so that the miners can reap benefits of their work."
The Deputy President told the Gold miners to take advantage of the electricity to make maximum profits since the cost of diesel they have been using is twice the cost of power.
"It is our responsibility to serve every Kenyan from every part of the country," he added.
Migori Deputy Governor Nelson Mahanga guaranteed the Gold miners that the County Government will shoulder the electricity bill that will be connected inside the mines.
Energy Cabinet Keter said the Government is determined to increase the connectivity of Migori County from the current 18 per cent to 50 per cent within one year