160,000 Kenyans live in UK, says envoy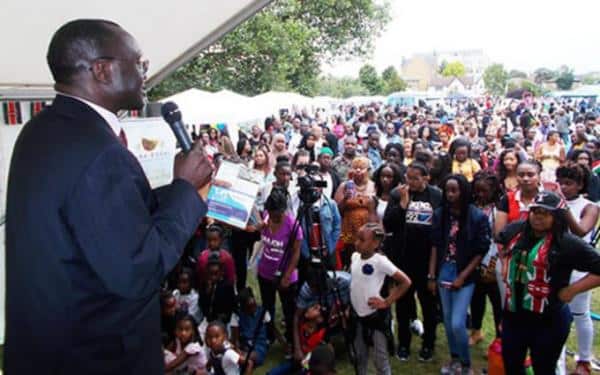 Photo courtesy/Misterseed.com.
There are close to 160,000 Kenyans living in the United Kingdom, a Kenyan envoy has said.
Lazarus Amayo, Kenya's high commissioner to London, became the first senior diplomat to address a record number of Kenyans in the diaspora during the second edition of an event dubbed 'Kenya in the Park' in London at the weekend.
Mr Amayo said Kenya was committed to strengthening its relationship with the UK, which last month voted in a referendum to leave the European Union.
"We estimate to have 159,000 persons of Kenyan origin residing here (in the UK). We also have 25,000 British nationals who have chosen Kenya as their home and so we have a lot in common," he said.
Event attendance
The event organisers, Lydia Olet, Mercy Kiminto and Misterseed (an online social entrepreneur), said there were 6,000 people in attendance at Plaistow Park, East London. Last year, 3,000 people attended the inaugural event.
The event brings together Kenyans living in London and offers a networking opportunity while showcasing the country's rich culture, with some of Kenya's top brands, including Kenya Commercial Bank, Kenya Tourism Board and Kenya Airways, participating.
"We are very impressed with the numbers of stalls, which hit 47 this year. They range from cultural objects and fine Kenyan-African cuisine to financial services and offerings in hospitality," said Ms Olet.
"We need something authentic, natural and tasteful African products for the Kenyans in London, and we have hit at the central nerve. Next year will be fabulous and the numbers will double," said Ms Kiminto.
Also in attendance was Elizabeth Kangethe, Kenya's first woman councillor in the UK.
The next 'Kenya in the Park' event will be held in August 2017.