WAIGURU: I'M RESTED AND READY FOR HEAVIER DUTIES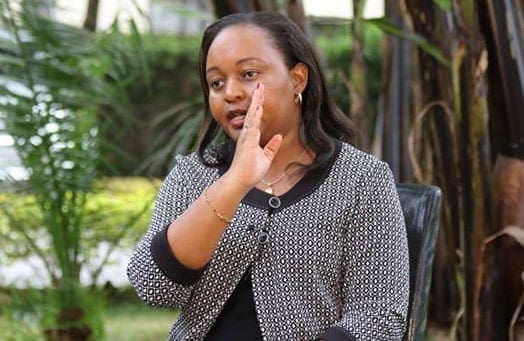 Former Devolution Cabinet Secretary Anne Waiguru has stated that she has rested since her resignation and is ready to work.
When she resigned, Ms Waiguru cited health reasons saying that doctors recommended that she rests.
She also asked President Uhuru Kenyatta, who appointed her, to assign her lighter duties.
But on Tuesday she said she had recovered, "If you get a flu, you can recover and come back to work. I have rested enough and now I am ready."
The former minister broke her silence on the National Youth Service (NYS) scandal and her decision to venture into politics.
In an exclusive interview with the Nation, Ms Waiguru insisted that she was pushed out by cartels who wanted to benefit from the cash at the NYS.
THE SCANDAL
When pushed to name those behind the cartels, Ms Waiguru said she will name them after investigations on an affidavit written by NYS suspect Josephine Kabura are complete.
The affidavit named her as the mastermind of the scandal.
"The investigations on Kabura affidavit are ongoing and once completed, I will reveal those who were behind the machinations. Those people who were uncomfortable with my delivery and what the government was achieving pushed me out," she said.
On whether she had any connection with Ms Josephine Kabura, who is among those charged in court over the Sh791m scandal, Ms Waiguru said time will prove her right.
"She was sent by those forces to tarnish my name. I never took any shilling from NYS and I do not owe anybody any money."
Ms Kabura and eight others have been charged over the loss of Sh791 million and the ex-minister insists that she was a whistle-blower.
GUBERNATORIAL CANDIDATURE
"Now I can talk freely as a former technocrat. I saved the government cash. To be precise I saved taxpayers Sh800m and when the Auditor General's report on the issue is released, I will be proved right," said Ms Waiguru.
The former CS said she has written three times to Ethics and Anti-Corruption Commission seeking to know whether there are any pending issues but the agency has not raised any.
Since she announced her candidature, social media users have accused the Gichugu constituency native of trying to cleanse her name by vying for the Kirinyaga gubernatorial seat.
"I do not have a single shilling that belongs to anyone. I don't owe anybody anything and other than the Kabura affidavit on which I will be exonerated, nothing else implicates me."
Ms Waiguru also defended herself against claims that she used her position in the Devolution docket to amass wealth for her campaign.
"I have no money stashed somewhere for campaigns, I will fundraise like everyone else."
-nairobinews.nation.co.ke
Anne Waiguru resigns from Cabinet