Gema, Kamba elders agree to support Jubilee govt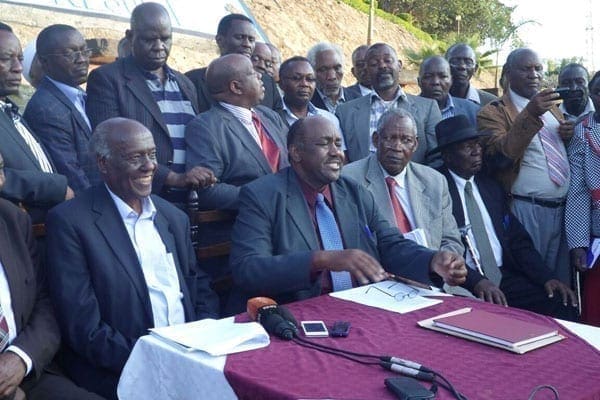 The Gema Cultural Association (GCA) has reached out to the Akamba community in a bid to woo Kamba leaders to support the Jubilee government.
The two communities on Friday resolved to engage President Uhuru Kenyatta and the Akamba political leadership to work together to solidify their political destiny.
In a meeting between Gema and Akamba Clans Governing Council of Elders that was held at the Masinga Dam Resort, the elders said they would work to correct the political leadership for the socio-economic benefit of the communities.
"We are reaching out to the Akamba community and to everybody. We are going to help as much as we can to correct the political leadership.
"If you are not doing it right, we cannot sit and watch you go astray," said Gema chairman Bishop Lawi Imathiu, adding that bad politics contributed to poor living standards.
Akamba Governing Council of Elders chairman Boniface Kilonzo, who read the resolutions reached at the meeting, said the council was working with the Jubilee government.
"Our Constitution spells out that we work with the government of the day," said Mr Kilonzo in response to questions from the press.
Mr Kilonzo was flanked by council secretary-general Davies Maeke, organising secretary Pius Mwaka and vice-chairman Richard Kaveke, among other officials.
He said the Akamba and Gema elders would request a meeting with President Uhuru Kenyatta to explain their concerns.
-nation.co.ke