ODM rebels dare party to eject them for joining Jubilee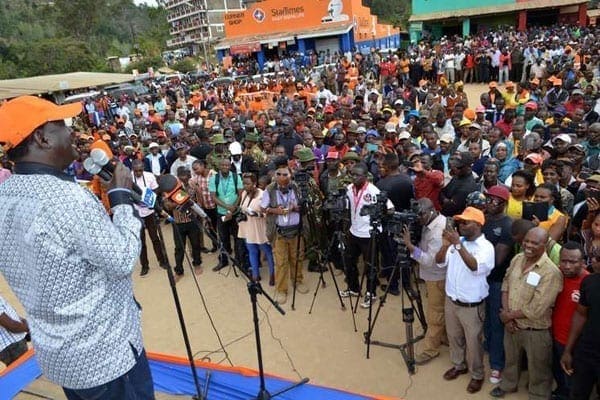 Defiant ODM politicians, who have shifted their loyalty to President Uhuru Kenyatta's Jubilee Party, on Wednesday dared the party to kick them out.
Those who spoke to the Nation said they were not shaken by the threat to expel them and subject them to by-elections.
The party's disciplinary committee had on Tuesday recommended that 10 MPs, two governors and an unspecified number of MCAs should be expelled from the party within seven days. The committee accused the leaders of violating the Political Parties Act and the ODM constitution by supporting a rival party.
On Wednesday, Kilifi South MP Mustafa Iddi termed the threat to expel them from ODM as an act of "cowardice" by the party's leadership.
"Democracy allows people to associate with one another devoid of interference by a third party. We cannot kneel down for anybody because we have no fear in us," he said in a telephone interview with the Nation. "The party should tell us exactly what crime we have committed."
Mr Iddi pointed that an MP could only removed from the party after he or she tenders a resignation letter.
"I have not written any letter for somebody to say I have moved from ODM. However, in 2017, I will use the Jubilee Party to defend my seat," he said.
Sirisia MP John Waluke said he was not bothered by the threats because he was confident that he would win back his seat on a Jubilee ticket.
"Let the ODM party leaders make real their threat and expel us from the party. We have no fears. I will retain my seat at 8am any time the election is called," he said.
He said that his association with Jubilee was as a result of a directive from the voters in Sirisia.
Mathare MP Steve Kariuki said he was safer in Jubilee. He said he had no apologies to make over his political move.
"ODM was reluctant to support me in the by-election until I used my own means to secure the ticket. I owe my loyalty to the people of Mathare, who advised me to join Jubilee," he said.
Kwale Governor Salim Mvurya told his critics in ODM "to be at peace now that I have decided to move to Jubilee". He vowed to rally his supporters behind President Uhuru Kenyatta in next year's elections.
"The Jubilee administration has helped the Kwale County government realise its development agenda," he said.
MPs Gideon Mung'aro (Kilifi North) and Samuel Arama (Nakuru Town) did not respond to the ODM threat to kick them out of the party for backing Jubilee.
On Wednesday, Mr Fred Athuok, the ODM disciplinary committee chairman, reiterated that the team's decision was final and now the fate of the lawmakers lies with the party's National Executive Council.
"We did our part and made our recommendations to the NEC. It is now upon them to implement our resolutions if the affected leaders do not show cause why they cannot be expelled," Mr Athuok said.
During Mr Odinga's tour of Kakamega County on September 8, he told governors and MPs willing to defect to Jubilee Party to do so, arguing that the coalition would not be shaken. Mr Odinga said the defections would be inconsequential.
"We are not worried by the defections since there are many strong and credible people ready to contest the seats on Cord tickets and we are confident of winning," said Mr Odinga.
On Wednesday, Marsabit Governor Ukur Yattani denied decamping from ODM to the Jubilee Party.
"I have not defected but as Marsabit County leaders, we are in discussion with national leaders on how best we can stop recurrence of tribal clashes," Mr Yattani said.
He said Marsabit leaders were considering sharing future political positions based on the major ethnic groups/clans in the county.
"If that will bring us under one political umbrella then so be it," he said.
-nation.co.ke