VIDEO:Mutahi Ngunyi Explains How Raila is Using Joho to Kill CORD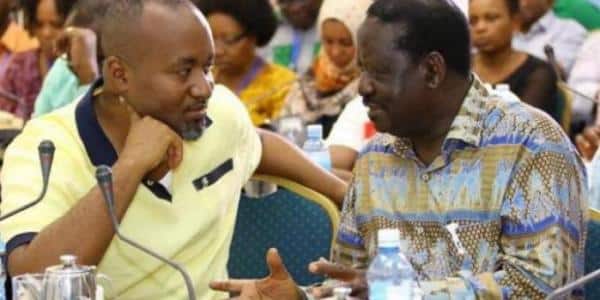 CORD is Dead: Did Raila Kill It?:The decision by ODM Party leader Raila Odinga to aggressively popularise his party without engaging his coalition partners has led to speculation that the former premier is plotting his exit from the CORDcoalition.
Renowned political analyst Mutahi Ngunyi hypothesised that Mr Odinga could be using Mombasa Governor Ali Hassan Joho to demonstrate ODM's solo-might before abandoning Ford Kenya and Wiper.
Ngunyi has said that the decision by ODM not to invite CORD coalition partners Moses Wetangulaand Kalonzo Musyoka during the 10th celebratory rally held in Mombasa is telling, given that the event occurred at a time when their political rival Jubilee was merging its parties into one house.
The Mombasa event was also used to nominate Odinga as the Orange party's Presidential Candidate despite the silent murmurs over an agreement that sought to have Odinga endorse Musyoka in 2017, in exchange for the latter's support in the 2013 General Election.
"CORD is actually a leech that seeks political lifeblood from Raila and ODM," Ngunyi said.
The political analyst added that it was likely that Mr Odinga had realised that ODM does not need the two relatively junior partner parties.
"Without ODM, CORD will essentially be dead," said Ngunyi.
Ngunyi added that Raila's mode of operation involves active realignment of his political forces ahead of a General Election including choosing a new running mate.
The analyst famed for the tyranny of numbers phrase noted that Joho was likely to be Odinga's running mate in the upcoming 2017 General Election.
"Joho has the energy of William Ruto, he has the consummate political tactics and strategies that Ruto uses. For Raila to beat the dynamic duo (Uhuru and Ruto), that's what he needs (Joho)," opined Ngunyi.
ODM has in the last three weeks been on an active popularisation wave that has been led by Joho in his capacity as the party deputy leader.
The fact that some of the Joho-led overtures have been done in supposed Wiper strongholds has led to speculation in some quarters of an imminent fallout in CORD.
On Monday, Musyoka commented on the ODM activities, appearing to warn ODM that he would also make a major move and ODM should not blame him when that happens.