Cord shaken by Wetang'ula's 'careless' statement on Raila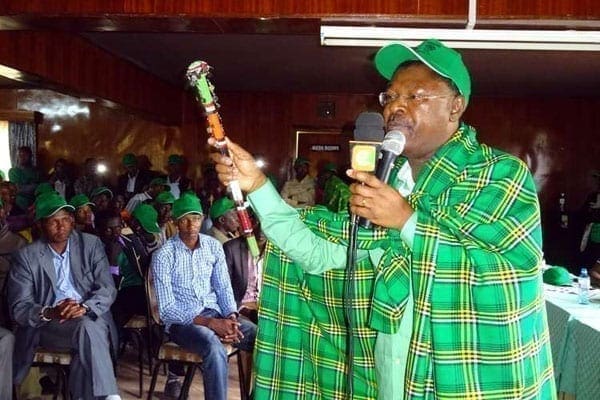 Remarks by Ford Kenya leader Moses Wetang'ula suggesting his Cord partner Raila Odinga was not a viable political project has served to further strain an already wobbling coalition.
In his tour of Narok County last weekend, the Senate Minority Leader equated the viability of a Raila presidency to a man who has tried to get a child with his wife to no avail but when the wife goes outside their matrimonial bed, she ends up conceiving. This has not been received well in Mr Odinga's ODM party.
"Whatever a man at 70 can do to a woman is the same thing another who is 60 will do. They are more or less in the same age set," ODM's director of elections Junet Mohamed fired back, referring to the ages of Mr Odinga and Mr Wetang'ula.
The lieutenants of the former prime minister say it appears the Bungoma Senator had made up his mind about leaving Cord and was only looking for a trigger to do so; they thus see his "insults" as part of the campaign to create a tinderbox.
The fact that the lawmaker was visiting Narok hot on the heels of a rally by Mr Odinga in the region made it appear an act of war. "Why didn't he go somewhere else?" they asked.
But, in an interview with the Sunday Nation on Saturday, the Ford Kenya boss denied he meant to portray Mr Odinga in bad light, blaming the debate generated by his remarks on the inability of Mr Odinga's supporters to appreciate imagery in public speaking.
"How can I rock the coalition I helped build? The allegory I used only underscores my mastery of the language, a skill I am blessed with. It is about richness of the language and the ability to capture one's thought effectively, something I am not about to stop.
"It is sad those who have misinterpreted it are shouting themselves hoarse. Raila knows I meant no harm," he said.
Like Wiper's Kalonzo Musyoka, also a principal in Cord who in Saturday Nation blamed "overzealous" Raila supporters for the turmoil in the coalition, Mr Wetang'ula said the supporters suffer from a feeling of entitlement, that their leader should not be subjected to any form of challenge when deciding on who will fly the presidential flag.
"Our supporters overplay themselves over issues we believe are not harmful to our relationship," he said, seeking to downplay the fight.
He asked the supporters to exercise restraint as they get into a murkier phase, when the subject of the presidential candidate will dominate the discourse even more.
Mr Wetang'ula said that after the Narok incident and subsequent backlash, they have talked and agreed amongst themselves to rein in their supporters to tone down the "friendly fires".
"Unity is not uniform, we can't see things through the same perspective particularly with the setting in of election fever but that should not be allowed to escalate to destructive levels," he said.
Events in Cord seem to replay what preceded the 2007 and 2013 polls when the country witnessed major realignments.
In 2007, Mr Odinga had an acrimonious fallout with Mr Musyoka — all members of ODM-K — with differences over who would become the torchbearer being the tipping point.
In the run-up to the 2013 election, Deputy President William Ruto led a number of politicians out of ODM although, this time round, it was not about who would become the candidate but an avalanche of issues including the Mau forest settlements and the ICC cases.
Both Mr Wetang'ula and Mr Musyoka prefer consensus as a way of picking the flagbearer while Mr Odinga favours the nomination route.
Last week, a number of ODM lawmakers told the Sunday Nation they want party strength to be the basis of picking the candidate, signalling a major showdown that, if unmitigated, could see the collapse of Cord.
Mr Wetang'ula further denies reports that he had been uneasy about the prospects of Amani National Congress leader Musalia Mudavadi joining forces with Cord.
His lieutenants are reportedly concerned that the entry of the Amani boss could overshadow him.
(READ: Cord leadership dispute deepens)
"How can I be uncomfortable with my brother joining us? We share the same philosophy. The doors between us and Amani cannot be closed, remember politics is the art of the possible," he said, adding that a deal could be in the offing.
Looked at in terms of his support base, there is almost a consensus in ODM that even with Mr Wetang'ula out, the coalition would be the richer were they to swap places with Mr Mudavadi given his party has about 25 MPs and with him attracting 500,000 presidential votes in the last election.
The senator ruled out the option of joining Jubilee. "Jubilee is not an option," he said.
His statement that politics was about interests, however, served to issue a stronger hint that if push came to shove, he would work with any political grouping.
On Friday, Mr Mudavadi said he was ready for an alliance with Cord but added a rider: "They must first put their house in order."
Mr Wetang'ula also warned his Cord counterparts against what he termed "the danger of being herded into a trap" through calls coming from their Jubilee opponents, particularly Deputy President William Ruto, for them to name their presidential line-up immediately.
He said they were reaching out to other political players such as Kanu chairman Gideon Moi, Bomet Governor Isaac Ruto, Narc-K party leader Martha Karua with a view to crafting an all-inclusive coalition before the next elections.
Ms Karua is said to have retreated from Cord events after resistance from some of the principals who saw her as a threat.
-nation.co.ke