Kenyan born is the new administrator for Salem Home in Kansas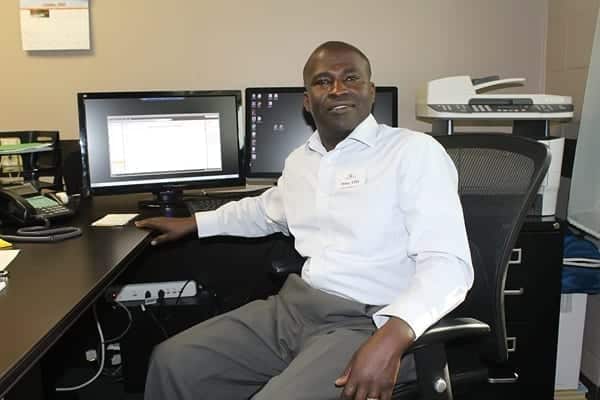 Peter Mungai feels he has found his niche as the new administrator at Salem Home in Hillsboro.
And the 44-year-old has traveled a long way to get there.
Born and raised in Kenya, Mungai left for India after high school. When he returned, he worked for three years with the Kenya Wildlife Service as a tour guide at one of the biggest safari parks in the country.
"I used to meet people from different parts of the world and gave thousands of tours," he said.
But when Mungai began to consider how he wanted to shape his career, he pursued another opportunity: to complete his master's degree in business administration at Emporia State University. Mungai came to Kansas in 2002 and completed his program in 2004.
During his time at ESU, he also worked full time as a nurse aide. He has been involved with nursing homes ever since.
"I didn't know how it was going to pan out, but I really liked it," he said of the job. "I had a lot of passion for giving that kind of care."
After receiving his degree, Mungai joined an administrator-in-training program in the nursing home field.
He started working as an administrator at a senior-living facility in Overbrook. Through the years, he has stepped into similar roles in other Kansas communities, including Yates Center, Wells­ville, Burlington and Wichita.
In 2014, Mungai started working for Hutchinson Regional Healthcare System, an integrated enterprise that includes a nursing home, hospital, home health and other health-related agencies.
"That's where I was until last week," Mungai said. "The hospital decided it wanted to get out of long-term care."
He heard about Salem Home from a staff member who was serving there as interim administrator.
"I met her in Wichita and also in Hutchinson," Mungai said. "She said, 'I'm going there for a limited time, so if you're looking for a permanent position, put your name in there.' That's what I did."
Mungai assumed his position at Salem on Oct. 3. He said one of his priority tasks is to make sure Salem will be receiving the payments for the KanCare residents living there more promptly—a situation he knows well from previous experience.
"What is happening is, the state of Kansas decided they wanted to centralize Medicaid applications in Topeka instead of hiring local agencies (to process the billings), they made it so difficult," he said. "Now we have to send everything to Topeka."
Meanwhile, state budget reductions have affected cash flow from the state as well. Earlier this month, the Salem board requested, and was granted, a six-month reprieve from rent payments to the city, which owns the building.
The move should help the situation at Salem while Mungai works at his end to improve cash flow.
"We want to make our name known in the community—we are already known, but want to say, hey, we're still in business," he said.
"To me, this (cash-flow issue) is not going to be hard to turnaround," he added. "We're also going to pursue anywhere we can cut expenses without compromising residents' care.
"The last thing we want to do is close this place and tell the residents they have to move."
Mungai said he likes what he's experienced about Salem and Hillsboro.
"I think this is a nice town," he said. "I look forward to working around here."
Mungai said he will be commuting for a time from Hutchinson, where he and his family own a home. He met his wife, Judy, also a Kenyan native, when they were introduced at a cousin's wedding in Texas. The couple have two daughters, ages 4 and 18 months.
"I'm very excited to be here," he said. "For me, to work for a not-for-profit organization, I know they're not about money. They're dedicated to care.
"This is one business in town we want to keep. We want to keep our residents here."
-hillsborofreepress.com