Kenya Airways terminates Kenya Sevens rugby sponsorship deal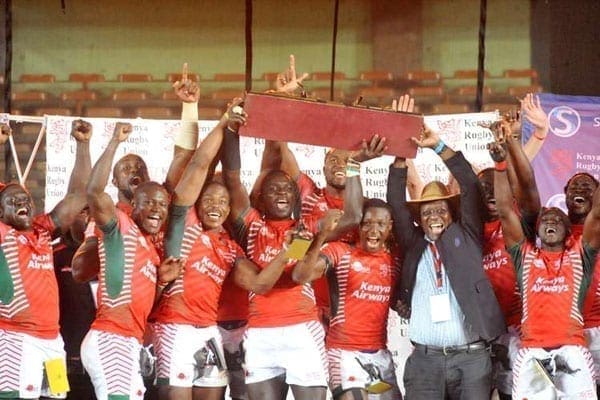 Kenya Airways has officially terminated its sponsorship of the Kenya Sevens rugby team after seven years.
Chief Executive Officer Mbuvi Ngunze said the airline, which has been a Shujaa's title sponsor since 2010, spending over Sh900 million in cash and kind, has evaluated its current business strategy and opted not to renew the sponsorship.
Even though the Kenya Airways and Kenya Rugby Union contract ends on November 30 this year, Ngunze indicated that the airline will continue supporting the sport through select initiatives.
He noted the airline entered into the partnership to grow the game and support the players, a move that it has achieved seeing the recent performance of the team.
"We are proud of how far the sport has come with global interest in Kenya's participation in the World Rugby Sevens Series rising by the day and appreciate the determination of our sports personalities which has cemented Kenya's position in the Series," he said.
He explained that sevens rugby has become a popular sport, making it a major platform not just for marketing Kenya as a destination for sports tourism but also supporting Kenya to maintain a higher profile abroad.
Kenya Rugby Union (KRU) chairman Richard Omwela said they had hoped Kenya Airways would match the Sh600 million sponsorship given by SportPesa for Kenya rugby.
"We had told Kenya Airways to take the back of the shirts with a considerable package but they opted out," said Omwela.
In SportPesa's five-year deal, Sh120 million will be used annually for the national teams. Kenya Sevens takes a huge chunk of Sh60 million with the other half going to Kenya 15s, Kenya Under-19 and Kenya Women's teams.
"We appreciate the constant support Kenya Airways has accorded us over the years. We have worked together to see Kenya Sevens grow from strength to strength," said Omwela, noting that the period has seen young players such as Biko Adema and Billy Odhiambo rise to the top of their game.
Kenya Airways' sponsorship took the management of Kenya Sevens to another level, where players started getting monthly salaries with handsome match allowances and bonuses.
During that period, Kenya reached the final of the World Rugby Sevens Series twice before winning their maiden leg in Singapore during the 2015/2016 season.
Their best ever season was during the 2012-2013, when they finished fifth.
Besides reaching their second Rugby World Cup semi-finals in 2013, the team qualified for this year's Olympic Games in Rio de Janeiro, Brazil.
-nation.co.ke