Kenyan scientist Ryan Awori develops a drug for superbugs

Kenyan scientist Ryan Awori develops a drug for superbugs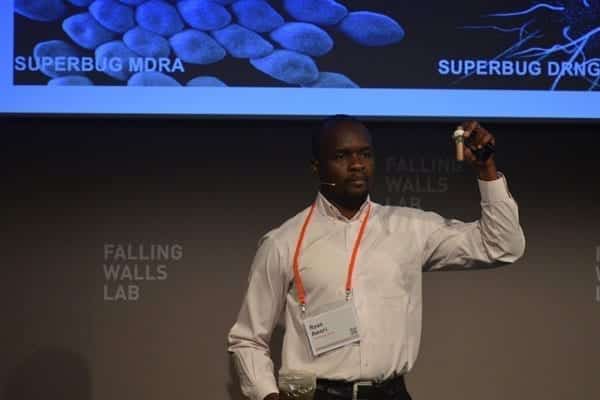 A Kenyan scientist has developed an antibiotic to treat disease-causing bacteria that are immune to the existing drugs, or superbugs.
Mr Ryan Awori, 27, announced his innovation on Tuesday at an international science conference in Berlin, Germany. His drug — Mursamacin — is derived from roundworms in soils found in central Kenya. The worms release beneficial bacteria which produce antibiotics that destroy rot-causing organisms.
Speaking to the Nation at the Falling Walls Conference in Berlin on Tuesday, Mr Awori said: "We looked at whether this antibiotic can be used to destroy disease-causing bacteria which are resistant to commonly used drugs.
"We began six years ago, and we have seen that it works by destroying the bacteria that cause skin infection and mastitis in cows."
The antibiotic is the result of a collaboration between Mr Awori and researchers at Trek Science, a start-up biotech company, in partnership with the International Centre for Insect Physiology and Ecology (Icipe), the University of Nairobi and the Kenya Agricultural and Livestock Research Organisation (Karlo). The drug is expected to be in stores in five years, once it gets approval.
"Over 50 per cent of skin infections in the country are caused by methicilin-resistant Staphlycoccus aureus bacteria," Mr Awori said. "Mursamacin destroys this superbug and works eight times better than the common antibiotics."
MEDICAL PROCEDURES
Microbial resistance happens when micro-organisms such as bacteria, fungi, viruses and parasites change on exposure to antimicrobial drugs, particularly antibiotics, antifungals, antivirals, antimalarials and anthelmintics.
Such resistance makes it risky to carry out medical procedures such as organ transplants, chemotherapy, diabetes management and major surgery, according to the World Health Organisation (WHO).
Mr Awori said he hoped his presentation at the Berlin conference will help his team to secure funding to develop the drug, which would be a "great solution for a global concern that affect Kenyans".
Mr Awori's presentation was one of 100 scientific innovations to be discussed at the Falling Walls Conference, which will be officially opened on Wednesday.
The meeting seeks to come up with solutions, ideas and innovations to solve many of the world's problems — such as cancer, infectious diseases and food security.
Its opening coincides with the 20th anniversary of the fall of the Berlin Wall on November 9, 1989.
Kenyan scientist Ryan Awori develops a drug for superbugs