Kitui Governor Forced to leave Kitui ex-mayor's burial after chaos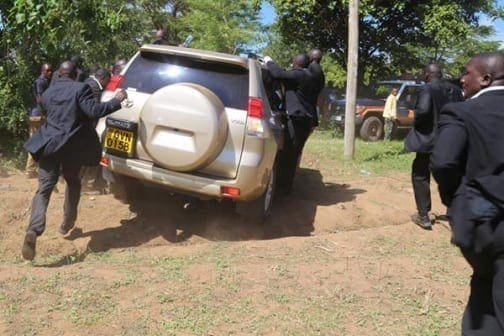 Kitui Governor Julius Malombe was forced to leave the burial ceremony of former mayor Martha Mwangangi after chaos erupted upon his arrival.
Malombe, who arrived just before the ceremony started, left with his supporters after he was accused of dividing county residents.
Some even blamed him for Mwangangi's death, why was in accident involving a county fire truck.
The one-time mayor was crushed to death on Friday by the truck that narrowly missed former Lands CS Charity Ngilu.
The driver was trying to scare away a crowd that threatened to torch a county government vehicle as it passed byKitui Central police station. This was during demonstrations against the demolition of Kalundu market traders' kiosks.
Mwangangi's family members had asked the Governor not to attend the burial saying it would be a private ceremony and that they had a right to choose attendants.
Ngilu and Malombe crushed over the former mayor's death at her home in Mwembe Tayari village on the outskirts of Kitui town, where they had gone to condole with the family.
Ngilu, who seeks to unseat Malombe, told the Governor to his face that he should take full responsibility for the death.
"Since Mwangangi was killed by a county government truck, the Governor must take full responsibility because he is the head of the institution," she said.
But Malombe interjected, asking Ngilu to stop imputing that he had anything to do with the death.
The driver, Philip Isika, was charged on Monday with two counts; killing Mwangangi and intending to kill Ngilu, who is Narc leader.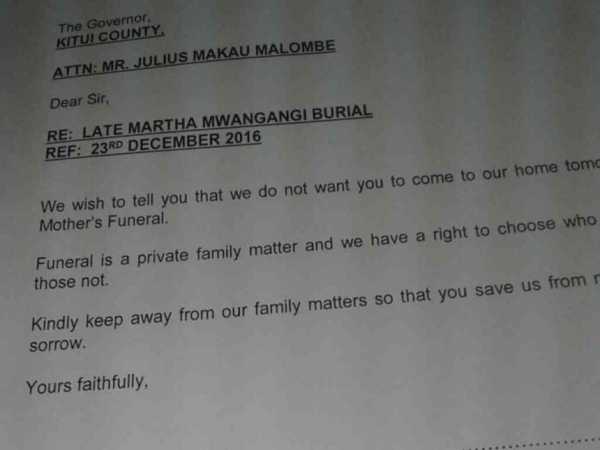 -the-star.co.ke