Politics and peace calls dominate at John Keen burial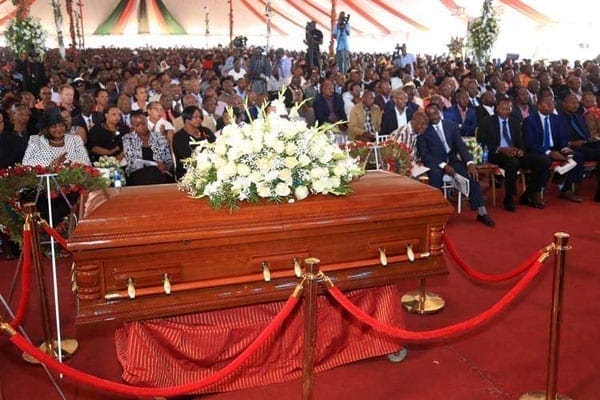 Calls for peaceful elections next year dominated the burial of veteran politician John Keen on Friday.
Thousands of people, among them Kenya's political leaders, attended the interment at his Namanga home near the Kenya-Tanzania border. It rained in the morning, a sign which was interpreted by many that the heavens had accepted the fallen hero.
Although the occasion was supposed to be apolitical, ODM leader Raila Odinga said that a politician always is buried by fellow politicians same as any other person is buried by their peers.
He then asked Interior Cabinet Secretary, the retired Major-General Joseph Nkaissery to leave weapons at the barracks, let people battle out politics with words and policies (mambo ya silaha, acha kwa barracks, siasa ni watu wanapigana kwa maneno na sera).
The politician was alluding to recent events in which police surrounded Parliament in the wake of heated debates on electoral laws. The government has maintained the police presences was to guarantee security of the House.
All who spoke had good things to say about the late Mr Keen. They described him as a man who fearlessly fought for all Kenyans equally and championed the rights of the Maa community, especially their land rights.
His role in the liberation of the country from colonial rule and the part he played as a member of the Lancaster House team which laid grounds for the country's independence.
He was also eulogised as a man who stayed firm in his resolve and ideology and could not be swayed from defending his people.
"Our grandfather was always firm with us and made us understand that we could not commit the same mistakes his children made," said one of his grandsons eliciting laughter among the mourners.
Kajiado Central MP Elijah Memusi decried the appointment of chairperson of the Independent Electoral and Boundaries Commission.
"One of the candidates for chairman scored more than 80 per cent, the other scored lower," he said, adding, "The results of the interviews must be made public and reason given why number two was chosen over number one".
Kakamega Senator Bonni Khalwale accused the government of intending to rule forever referring to the contentious election law which might be amended if Senate approves.
"We will not approve of the Bill. Inside the amendment is an attempt to allow some people to rule ad infinitum," said the senator.
Addressing Interior CS Joseph Nkaissery who was present, Mr Khalwale  said: "We want peace during elections, and the only way we can achieve that is to ensure free and peaceful elections, that is the way to peace."
Mr Odinga said he first met Mr Keen while in the company of his late father Jaramogi Oginga Odinga, adding that a big blow had been dealt on the Maasai community as they have lost two key leaders in just three months.
Mr William Ntimama another leader passed away less than three moths ago.
"He always stood for justice, faulting the government of the day. He stood with other heroes who fought for justice." He mentioned Pio Gama Pinto and Bildad Kagia.
"In honour of Mr Keen, we need to have peaceful elections because he is a man who stood for peace and unity," said Mr Odinga.
Wiper Leader Kalonzo Musyoka said the government is creating trouble for itself by going against an agreement on electoral laws.
"If there was need for an amendment then it was supposed to involve the people. We are now watching what Senate will do," he said.
The former vice-president added that opposition chiefs will be meeting on January 6 to see what Senate has come up with or resolved after which they will give directions to Kenyans on which step to take next.
Politics and peace calls dominate at John Keen burial