Schedule For Diaspora Isaac Kinity's Peaceful Protest In Kenya
Schedule For Diaspora Isaac Kinity's Peaceful Protest In Kenya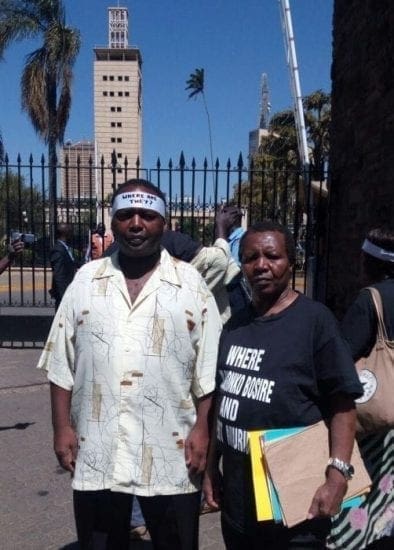 Because of my scheduled peaceful protest set to begin at 9 am on January 12, 2017, I will leave USA on January 7, 2017, and I will arrive at the Jomo Kenyatta International Airport in Nairobi, Kenya, on board Royal Air Marco, flight number 263, at  8.05 AM, on Monday January 9, 2017, in order to have a few hours to prepare for the peaceful protest.
Following the request by the Nairobi Police Commandant during the notification of the protest in March 2016, about a reminder of the protest when the day drew near,  I will go back to the Nairobi Police Commandant Office soon after my arrival, in order to remind the office about the Protest, which will start at the
Uhuru Park Freedom Corner
at
9 am
on January 12, 2017, then to the Police Head Quarters, then to the Attorney Generals Chambers and finally to the Parliament Buildings.
It is sad to note that up to this day, no one knows the fate of the two young Kenyans, and there has not been any report released by the Kenya Government about any investigation that was ever conducted into their disappearance, despite the  order that was given in April 2015 by the Director of Public Prosecutions, Mr. Keriako Tobiko.
http://omollosview.com/blog/2015/04/29/dpp-orders-investigations-in-uhuru-lawyer-disappearance-after-2-years/
Therefore, Fresh investigations are necessary to determine how Mr. Dickson Bogonko Bosire and Mr. Albert Muriuki mysteriously disappeared in 2013, in order to restore confidence and trust in the Kenyan youth, and especially those in the Diaspora, who wish to go back to Kenya to exploit their talents, experience and competence in different fields, following their stay in developed Nations, whose democracy, rule of law,  Services to the Citizens, including transparency and accountability in areas of governance, are completely different and quite encouraging.
During the peaceful demonstration/protest, which will be in compliance with Article 37 of the Kenya Constitution on Assembly, Demonstration, Picketing and Petition, which in part  reads that, "
Every person has the right, peaceably and unarmed, to assemble, to demonstrate, to picket and to present petitions to public authorities
", I will use the demonstration/protest, to call for  fresh investigations into the disappearances of
Mr. Albert Muriuki
and Mr. Dickson Bogonko Bosire, and/or to demand for the release of a report to the Kenya public, about any investigations that may have been carried out, about the disappearance of the two Kenyans.
Mr. Albert Muriuki, who was a top adviser of President Uhuru Kenyatta before his disappearance, had left USA for Kenya a few years earlier,  after his studies in USA, and he was lucky enough, to ascend to the high profile job in Kenya, a short while after his arrival.
My previous efforts and my previous pleas to the Kenya Government to institute fresh investigations into their disappearance, failed. One would imagine the agony, disappointment and the mental torture in
Prof. Naomi Mutea
, whose son Albert Muriuki, called her the day he disappeared to tell his mother only two words,
"Goodbye Mum"
, during that one agonizing and horrifying last call.
When President Uhuru Kenyatta's advisor vanished into thin air.
When President Uhuru Kenyatta's advisor vanished into thin air

By By Job Weru

When Dr Naomi Kathure Mutea, a senior nursing lecturer at Dedan Kimathi University, received a call from her fir…
Mr. Dickson Bogonko Bosire was a well known Kenyan blogger, who also owned an online newspaper called the Jackal news.
The family of Mr. Dickson Bogonko Bosire, Mzee David Bosire and Mrs. Esther Bosire, were not spared the agony, the disappointment and the nightmare either, especially with those last words in their last joyful conversation with their son, before he mysteriously disappeared in thin air, during which, he informed his parents, "that he had been promised a new job at the Kenya State House".
Two years of anguish mark family's search for missing blogger Bogonko Bosire
Two years of anguish mark family's search for missing blogger Bogonko Bosire

By Kipchumba Some

For more than two years, Mzee David Bosire and his wife, Esther, have been anxiously waiting for news – any news…
No doubts, there were so many unexplored leads which should be thoroughly examined in  Fresh investigations. This is the reason why I will call for fresh investigations into the disappearance of the two young Kenyans, during the peaceful protest on
January 12, 2017
.
KENYAN DIASPORA ACTIVIST ISAAC KINITY IS GOING TO KENYA TO PROTEST
KENYAN DIASPORA ACTIVIST ISAAC KINITY IS GOING TO KENYA TO PROTEST

Human rights activist Isaac Newton Kinity,the Chairman of KIKIMO Foundation for Corruption & Poverty Eradica…
Schedule For Diaspora Isaac Kinity's Peaceful Protest In Kenya