US Ambassador Reported to Donald Trump After Clash With Kenyan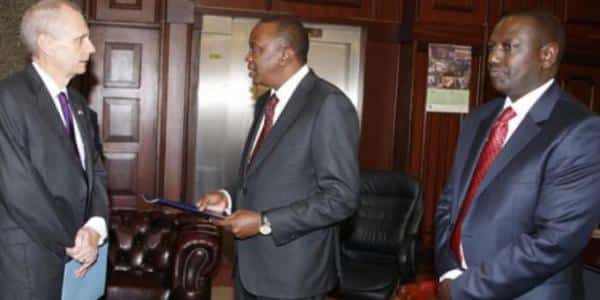 Outspoken Kenyan activist and renowned columnist David Ndii was on Tuesday caught up in a heated argument with US ambassador to Kenya Robert Godec over the manner in which the Eurobond investigations have been conducted.
The conflict started after Godec wrote an opinion article where he appeared to criticise some of the commentators who have accused the American government of complacency in theft of Eurobond proceeds.
"Some commentators have confused the issues by looking outward and placing blame where it does not lie," Godec wrote.
Ndii, who is one of the commentators who have relentlessly pushed the theory that Eurobond money was stolen, hit back at the ambassador accusing the US government of denying the Kenyan Auditor General access to information related to Eurobond.
Interestingly, Ndii – who replied through his Twitter account – appeared to be reporting the matter to President-Elect Donald Trump as he tagged his official twitter handle.
The tweef escalated after Godec hit back, without tagging Trump, and stated that the US was cooperating fully with the Kenyan authorities.
The Saturday Nation columnist did not relent and retorted: "@bobgodec Clearly you did not pay attention to what I wrote. Are you speaking for the NY Fed? Has NY Fed cooperated with OAG YES or NO?"
"Yes! The US govt, including the Fed, has cooperated with every request received & will continue to do so," Godec stated in his final reply.
The Eurobond debate has for the past one year elicited heated reactions from different stakeholders.
Opposition politicians and a section of civil society activists have insisted the money was stolen and stashed in the foreign banks.
The Kenyan government has, however, published numerous reports and explanations on the trail of money to show the funds were fully accounted for.
US Ambassador Reported to Donald Trump After Clash With Kenyan