Ambitious Raila wants Cord to win all seats in Nairobi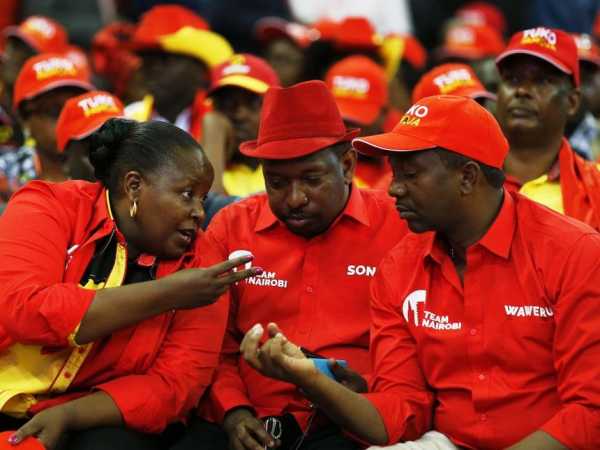 ODM leader Raila Odinga is planning an electoral sweep of Nairobi, the jewel in the crown, and this time he's shifting strategy and calculating how to win smart.
"We can do it and must do it," Raila told Cord aspirants at Nyayo Stadium yesterday as he urged everyone to register and vote.
There will be no scattershot approach, no blind mobilisation everywhere, but careful targeting of strongholds and swing constituencies in registration and campaigning.
No effort will be wasted in areas where the opposition cannot win.
Consensus will be sought. Everybody cannot run or everybody will lose.
Yesterday Raila urged aspirants not to blindly mobilise supporters but map out and target party strongholds.
Cord wants to retain the governorship of Evans Kidero, unseat Jubilee's Senator Mike Sonko and win the majority of 17 elected MP seats and 85 elected MCA seats.
Nairobi has 17 elected MPs and 85 elected MCAs. ODM has seven MPs, Jubilee won the rest.
"Jubilee is smart and they are ready for us. But we must show we are smarter. For that to happen, we must change our strategy," the Cord leader said.
He urged aspirants, while registering voters, to identify party strongholds, swing constituencies and areas where the party doesn't stand a chance.
"We don't need, for example, to mobilise people to register in Roysambu or Kasarani, where we cannot win. Instead they should go swing areas like Embakasi South and Embakasi North where we can win," he said.
"If we know we can win a seat in area with a Kikuyu candidate, Luo, Luhya or Kisii, let us do it. We must be ready to support whoever wins the nominations," he said.
The opposition must protect safe-seat strongholds to ensure victory by encouraging voter registration there, the ODM leader said.
Raila is banking on the number of opposition supporters, which he says are more than half the population, to tilt the scales against the Jubilee Party behemoth.
Aspirants must be smart, seek consensus and support only the most popular candidates.
The ODM leader urged aspirants "not to be people who want it all".
"If you all insist you will run, you all will lose," Raila said, referring to competition among parties.
JEWEL IN THE CROWN
Nairobi is Kenya's face to the world and both coalitions are struggling to control it.
There may be piles of garbage, problems with the landfill, bad drainage and flooding when it rains, terrible traffic jams and interminable commutes and a fair share of dubious business. And money problems.
But it's still the capital, the economic powerhouse, the contravention centre, the gateway to Kenya and a cosmopolitan centre that is home to all tribes and a large international community.
Deputy President William Ruto has pledged to ensure Jubilee defeats Kidero and wins most MP and MCA seats.
Jubilee is split following the entry into the governor's race of former assistant Minister Peter Kenneth.
Apart from seeking to field a strong team, Jubilee is also planning to launch a series of attacks against Kidero, painting him as a person unfit to lead Nairobi.
ODM Director of Elections Junet Mohamed (Suna East) said the Opposition enjoys massive support from communities forming a huge chunk of Nairobi voters.
"Nairobi is a Cord zone and we are very confident we will retain the governor's seat come 2017," he said.
ODM also wants Deputy Governor Jonathan Mweke to stay on.
Raila said the voter registration will determine who becomes President.
Despite garnering more votes than Uhuru Kenyatta in Nairobi and and winning the governor's seat, ODM only won seven of 17 parliamentary seats.
"This time, things must be different. You must an analyse previous election results so you can devise a better strategy. If we want to win in some areas like Starehe, we must field a Kikuyu candidate," he said.
The party boss assured the aspirants nominations will be free and fair and urged them to avoid violence.
Kidero urged the aspirants to work together in registering voters to ensure Raila wins.
"In Ngando ward, we lost by only 30 votes and in Kariobangi North we lost by less than 100. This time we want to win 65 MCA seats and 13 of the 17 MP seats," he said.
Nairobi ODM chairman George Aladwa also assured aspirants of fair nominations.
He said, however, all aspirants will be vetted and those disloyal to Raila will not get the party ticket.
"We do not want to elect someone who starts abusing our leader soon after elections," Aladwa said.
Raila toured several areas, including Kayole, Makadara, Kamukunji and Makongeni where he urged everyone to register and send home the "inept and corrupt" Jubilee government.
-the-star.co.ke