I was Raila's mole in Jubilee, says Onyango Oloo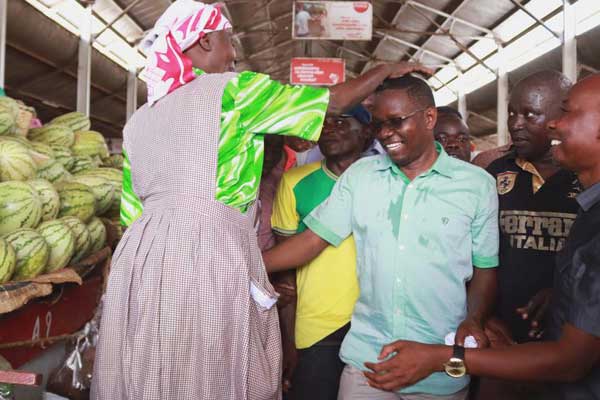 Former TNA secretary-general Onyango Oloo has claimed that he was a spy for ODM leader Raila Odinga in the Jubilee government.
Speaking Wednesday when he campaigned for his bid for the Kisumu Central Constituency seat in Kisumu Town, Mr Oloo said he had gathered all the tactics that Jubilee used in the 2013 elections to lock out Mr Odinga from presidency.
He claimed that Jubilee strongholds had multiple registered voters, adding that the Independent Electoral and Boundaries Commission (IEBC) must ensure an efficient clean-up of the register.
"The current arithmetic puts Nasa ahead of Jubilee in terms of numbers. It is now evident that Jubilee's journey to opposition is inevitable," Mr Oloo said at the Kisumu Bus Park amid applause from the crowd.
He went on: "The recent overtures made by President Uhuru Kenyatta and his mum (Mama Ngina Kenyatta) to retired President Daniel arap Moi's home are signs of desperation by the Jubilee administration. They must know that nothing will salvage their sinking ship."
Mr Oloo also said that the President's recent speech in Nairobi where he spoke in his vernacular depicted his worry of recapturing his seat
"He is under pressure from Nasa and their arithmetic is not adding up. They have nothing to do. It is race against time and we are close to the presidency," Mr Oloo said.
He also addressed fish mongers at the Kisumu fish market in Kisumu Town.
He was accompanied by former Kisumu County TNA chairman Titus Ondu and an aspirant for the Market Milimani Ward seat Ken Akoko
Mr Oloo urged residents to continue registering as voters at the IEBC constituency offices.
He vowed to kick out Kisumu Central MP Ken Obura saying he has abdicated his duties as an elected leader.
"Your MP has decided to dine with our opponents and he must be sent packing. It is unfortunate that you elected a person who has no interest in Kisumu," Mr Oloo said.
Source link-nation.co.ke