Tanzanian tour guide arrested for 'fake translation' of tourist comments-VIDEO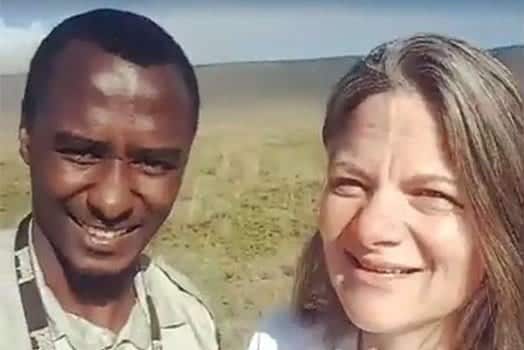 A tour guide at a Tanzanian game park has been arrested after falsely translating a tourist's comments about the country and its people.
In a widely circulated video clip, the guide says in Swahili that the tourist wants Tanzanians to "stop complaining" about hunger.
The woman, in fact, says Tanzanians are "fabulously wonderful".
The guide was arrested on unspecified charges on Thursday on the orders of Tourism Minister Jumanne Mshembe.
SOUL OF AFRICA
Tanzania markets itself as The Soul of Africa, and is popular with tourists because of its wildlife and spectacular scenery.
The unnamed guide was from the Serengeti National Park in the north-west.
Regional police commander Philipo Kalangi told the BBC that he was being questioned, but did not give more details.
The BBC's Lizzy Masinga in the main city, Dar es Salaam, says it is unclear why he has been arrested or whether he will be charged.
The minister may have felt that he was mocking the tourist or mimicking President John Magufuli, as some of his words were similar to those used by the president at a rally last month when he called on people to stop complaining about hunger, our correspondent adds.
EXCERPTS:
Hi. My visit to Tanzania has been beautiful, gorgeous. The people are fabulously wonderful and friendly. Greetings are always jambo [the Swahili equivalent of Hello]. Happy to be here. The land is beautiful, beautiful. The animals are wonderful."
The guide translates this as:
"You Tanzanians complain/cry a lot about hunger. Everyday you cry about hunger when you have flowers at home. Why don't you boil the flowers and drink [them]. It is not good to cry/complain about hunger."
Tourist:
"The variety of animals and people you see is incredible, unlike anywhere else. It is just fabulous."
Guide:
"You are asking your president to cook for you. Do you think your president is a cook? Can you get busy, even boil your clothing and eat."
Tourist:
"It will be an experience to savour for all of your life. It is fantastic and beautiful and incredible and just unremarkable.
Guide:
"Get busy in every corner of the country. The president can't leave State House to cook for you. You have to cook for yourselves.
Read Full Article Here: nairobinews.nation.co.ke