I could back DP Ruto in 2022, says Gideon Moi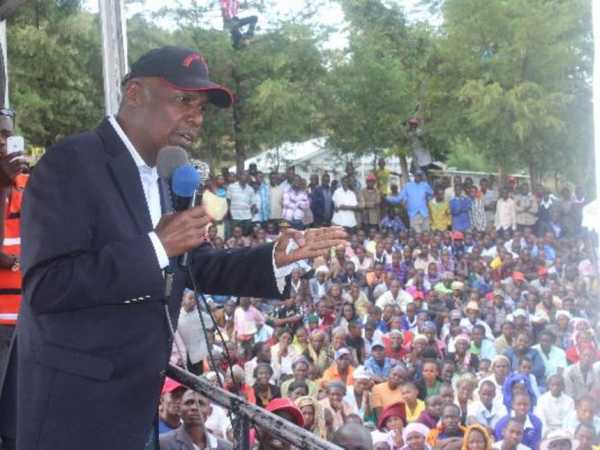 Despite rancourous rivalry with William Ruto, Kanu chairman Gideon Moi has said he is ready to support the Deputy President's bid for State House in 2022.
As for their festering feud,what feud?
"I have never crossed any path with him. I love him as much as he loves me," Gideon told the Star in an interview on Thursday.
The Baringo senator, who himself has been mentioned as a 2022 presidential candidate, said his own higher ambitions depend on the will of his party.
The son of former President Daniel Moi was quick to add, however, that Ruto has never asked for his support. He commented after chairing the Senate committee on Energy.
The two men are locked in battle over who will be the Rift Valley kingpin. Heretofore, it had been Ruto, but his continued reign is not assured. The two frequently trade insults.
In the recent past Gideon has said Rift Valley people no longer trust Ruto and President Uhuru himself should deal with them directly.
The Kalenjin people, he said, "find him arrogant and condescending".
Gideon and Ruto clashed on January 9 a the funeral of Mark Too in the presence of President Uhuru Kenyatta.
However, on Thursday, Gideon told the Star, "For us as a party, we have said we will support President Uhuru's reelection. If Ruto is part of it, we have no issues with him.
I have never crossed any path with him. I love him as much as he loves me."
Uhuru has already endorsed Ruto for President in 2022, in the Jubilee plan to hold onto power for 20 years.
Gideon , a businessman of vast wealth, is considered a major threat to Ruto's ambitions.
"I am perplexed some people have established enmity with me on allegations that I am challenging their political positions, yet I am just agitating on issues facing our people, like security in Baringo," he said on Thursday.
In the interview, Gideon also denied media reports that a deal was reached — some speculated to support Gideon in 2022 — when President Moi and Uhuru held talks at Moi's Kabarnet Gardens residence two weeks ago.
He said the talks dwelt largely on family and national issues. Family also dominated an earlier visit to his father in Kabarak, Nakuru, by Uhuru's mother Mama Ngina Kenyatta, Gideon said.
The senator said it was pure coincidence that when Uhuru visited Moi, he (Gideon) was also meeting his father. It's well known the Moi and Kenyatta families have been close for many years and have much in common.
"Our families have come a long way. We are personal friends, so there were no political deals discussed. Mzee and the President discussed family matters and those of the nation," Gideon said.
The newfound union between Uhuru and Gideon has raised concerns in Ruto's camp. Some of the DP's lieutenants interpret this as part of a wider scheme to gradually neutralise, or even isolate, Ruto.
The DP's grip on the Rift Valley, and specifically the Kalenjin community, has of late appeared more tenuous as it emerges Gideon is working with the Bomet governor, another DP critic.
In the Star interview, Gideon said his increased movements around the vote-rich Rift and elsewhere should not be interpreted to mean he is undermining Ruto but promoting the interests of all Kenyans.
His travels are meant to address the plight of maize farmers in his county. He also cited insecurity in Baringo county, resettlement of Mau Forest evictees in the South Rift and the need to conserve forest resources.
His priority is to agitate for real solutions to real problems by interacting with Kenyans, Gideon said.
"I have no issue with anyone. We are all entitled to our opinions and the best way to rate delivery of services to the electorate is to allow them to judge you," he said.
Asked whether he talks with Ruto, Gideon replied no, saying, "It is like Ruto has never had anything to discuss with me."
"We haven't talk in a while, despite many things we should be talking about, like insecurity in Baringo county. They don't call us for meetings," the Baringo lawmaker said.
Ruto's loosening grip on the region became clear during the Kericho by-elections to replace Senator Charles Keter, who had been appointed to the Cabinet. Kanu's Paul Sang put up a fierce challenge but unsuccessful challenge to Jubilee's Aaron Cheruiyot.
The race was very close. It signified rebellion by the people of South Rift Valley who protested that they had not seen development projects promised by Uhuru and Ruto when they campaigned in 2013. The state of agriculture, too, was a cause of disillusionment.
The rebellion has never completely died down.
The opposition party led by Bomet Governor Isaac Rutto, Chama Cha Mashinani, has recently made inroads in the three South Rift counties of Kericho, Bomet and Narok.
Anti-Ruto leaders are disappointed after Gideon's decision to work support Uhuru's reelection and not to side with NASA. They include Zakayo Cheruiyot who defected to Kanu in hopes the party would align itself with the opposition.
Last week, the independence party announced it will support Uhuru on August 8 but field candidates for all other posts.
At that time Gideon said Kanu's NEC endorsed the decision, denying claims he was under pressure to support the President.
"We went round the country seeking members' views, they told us to support the President," Gideon told reporters.
In early December, Uhuru had telephoned Gideon, strongly urging him not to side the opposition, which could seriously threaten his chances of a second term, if it remained united.
Source –the-star.co.ke