Onyango Oloo illegally signed contract, committee concludes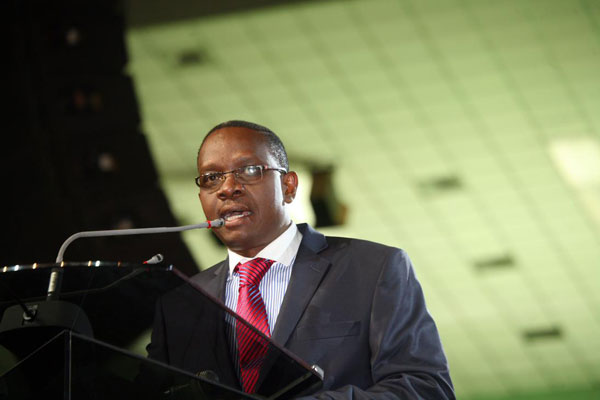 Former The National Alliance (TNA) secretary-general Onyango Oloo illegally signed a contract that will cost taxpayers more than Sh4 billion and he should be punished, a parliamentary committee has concluded.
Mr Oloo was non-executive chairman of the Lake Basin Development Authority when it agreed to have its title deed used by a contractor to secure a loan from a bank for the construction of a mall in Kisumu.
The mall now risks being auctioned to recover the loan, which was Sh2.5 billion but has since grown to Sh4 billion and is growing at the rate of Sh43 million a month.
On Thursday, the Public Investments Committee heard that Mr Oloo should not have been involved in the operations of the parastatal when he signed the agreement with the contractor, a company called Erdemann.
Committee members asked the National Treasury to ensure the mall was not taken over or auctioned to recover the loan but act against the culprits.
"The idea is good, the investment is good and, as MPs (Members of Parliament) from the area, we don't want it to go into private hands," Kisumu West MP Olago Aluoch said. "But whoever went into such a lopsided deal should be held to account."
Committee chairman Adan Keynan pressed the lake basin acting chief executive Evans Atera, to name the members of the board and the chief executive in charge when the deal was struck.
The chief executive then was Dr Kabok Aguko. Mr Carey Orege, the permanent secretary at the then Ministry for Regional Development, could also be among those sanctioned.
Mr Oloo is gunning for the Orange Democratic Movement ticket to vie for the Kisumu Central parliamentary seat. His bid could, however, suffer a jolt as MPs were particularly incensed that he signed the agreement.
"As a committee, we'll endeavour to ensure that they take responsibility for this bad action," Mr Keynan said.
He ordered authority to submit full board minutes of the decision to sign the agreement and asked the Auditor-General to undertake a forensic audit of the authority's pending bills.
The Auditor-General has already submitted to the National Assembly the report of a special audit on the matter.
Source link-nation.co.ke