Wetang'ula dismisses Infotrak after poor ranking among NASA flag bearers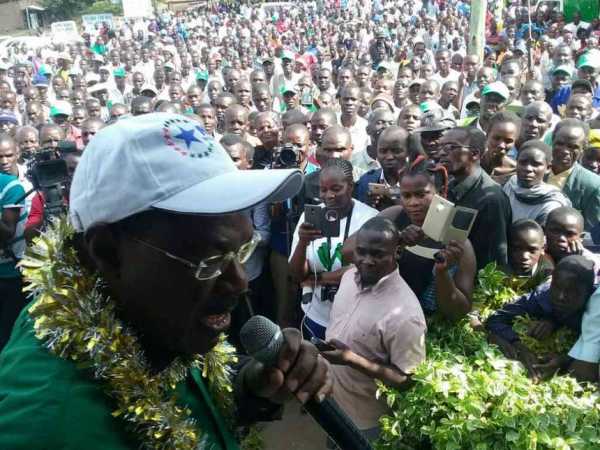 Moses Wetang'ula has rubbished the Infotrak poll that ranked Jubilee more popular than NASA and him the least popular presidential candidate.
The Jubilee coalition was found to be the favourite among Kenyans (40 per cent) and was followed by the newly formed National Super Alliance at 32 per cent.
Nasa supporters said Raila Odinga was the preferred flag bearer (68.3 per cent). Kalonzo was second at 13.1 per cent, Mudavadi (12.3 per cent) and then came Wetangula (Bungoma Senator) at 2.2 per cent. Some 4.1 per cent supporters said none of the four chiefs was fit to fly the coalition's flag.
Infotrak funded and carried out the research but the Ford Kenya leader claimed it was "clear" that they were paid to try and change Kenyans' minds.
Wetang'ula further claimed the company was being used by Jubilee to come up with numbers to confuse voters.
"We know it is Kenyans who will elect leaders, not influenced polls," he said during Ford Kenya rallies in Bisunu, Tulienge and Kosiandeti areas of Sirisia constituency on Sunday.
He was with MPs Ferdinand Wanyonyi (Kwanza), Eseli Simiyu (Tongaren), Wafula Wamunyinyi (Kanduyi) and James Lusweti (Kabuchai)
The Senator said there was no way Jubilee could be more popular than the National Super Alliance in Western.
The findings were "total rubbish and lies", Wetang'ula said, adding that the public wants NASA to redeem Kenya from all the misery President Uhuru Kenyatta's administration has caused since taking over in 2013.
He said Kenyans are highly indebted, that the cost of living has increased, corruption is rampant and that tax payers' money was being stolen.
Regarding the doctors strike that began on December 5 last year, Wetang'ula said NASA will address their needs once it takes over leadership after the August 8 general election. But he urged the health workers to return to work.
Wetang'ula added that Jubilee's failure to handle matters of national concern had portryed Kenya as a country of demonstration and strikes.
Source –the-star.co.ke