Uhuru, Ruto use digital portal to outline achievements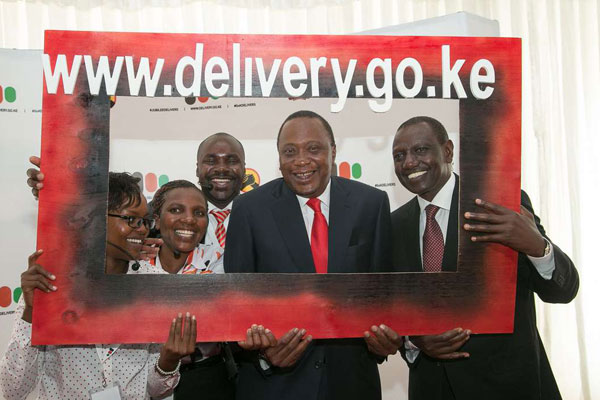 President Uhuru Kenyatta and his Deputy William Ruto launched their re-election campaign by laying out key achievements of the Jubilee government now explained in a new government portal.
The portal is a one-stop source of stories and facts about work of the Jubilee government and what it has achieved and responds to top criticism by the Opposition that President Kenyatta has not achieved anything.
On Monday, the President said Kenyans can now, with the touch of a button, find out what the government has been doing for the last four years.
"Using technology, we have consolidated all the achievements into one portal that is accessible to all. Questions will be responded to within 48 hours for a start and later it will be 12 hours," Mr Kenyatta said at KICC, Nairobi.
He said the online platform — www.delivery.go.ke — will be based on factual accounts of the current state of the projects and those in doubt will be free to confirm that indeed the listed projects exist on the ground.
"If you don't believe me, you can go to the ground so that we can begin as a country and people to differentiate between truth and propaganda," Mr Kenyatta said.
JUBILEE DELIVERS
Mr Kenyatta and Mr Ruto used the opportunity to appeal to Kenyans to support his quest for a second term to complete his development agenda for the country, saying the government had achieved a lot within a short time compared to previous regimes.
The two defended themselves against claims that the government was spending billions of shillings on infrastructure hence over borrowing, saying they could not leave incomplete projects from the previous governments to remain "white elephants".
"We are doing today what could have been done 20 years ago. We are spending more on infrastructure because we are dealing with a delayed situation," Mr Ruto said.
He said previous governments only used to promise with little implementation, but the Jubilee government has put pledge into action.
He cited the Standard Gauge Railway project saying the Grand Coalition Government had tossed around the idea for a long time.
BORROWING MONEY
Mr Kenyatta said resources are limited and the government must get its priorities right for meaningful economic growth to be realised.
"We are catching up. It is going to take time and effort. Give us a chance to complete this transformational journey," he said.
The President said Kenyans should not be worried about the level of borrowing because the money is not being spent on salaries and allowances but investments that will create jobs and opportunities for Kenyans.
"No individual, not a country can grow unless you have access to resources. The only reason you should be concerned about the level of borrowing is if that borrowing is being used for consumption or recurrent expenditure," Mr Kenyatta said.
EUROBOND MATTER
The national government, he said, was not in competition with the devolved units as some governors would like Kenyans to believe.
"This unseen competition people want to put out there is simply unnecessary. What Kenyans want is not competition, but how to ensure basic services are delivered. It is that partnership that will deliver the transformational government we want," he said.
The controversial Eurobond funds issue was revisited with both Mr Kenyatta and Mr Ruto dismissing claims that some Sh200 billion was lost, as the country's "greatest lies".
"There is a lot of propaganda. The biggest lie ever told in Kenya is that Sh200 billion can disappear. That the government can collude with the US government to steal. Very pathetic," Mr Ruto said.
He said the August General Election should be about issues as opposed to reaching out to ethnic blocs for support.
Mr Ruto said those eyeing leadership positions from the Opposition have been in government for many years and challenged Kenyans to judge them based on their and track record.
"They are not new people. They have been around 20-30 years. I am sure they must have some track record."
"It is not about the language you speak, or that you have coloured your hair or not. Give us your track record and let the people decide."
Source link-nation.co.ke