Uhuru arrives in Italy, to deliver landmark speech at G7 Summit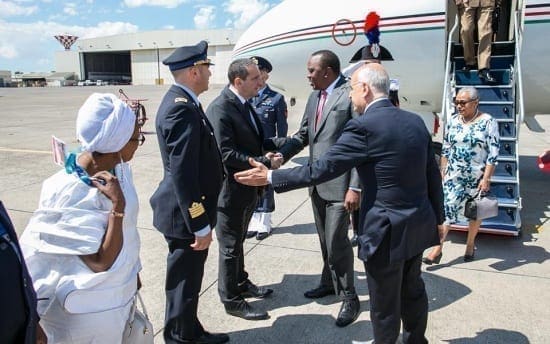 TAORMINA, Italy, May 26 – President Uhuru Kenyatta has arrived in Taormina Italy for the G7 Summit, which got underway Friday.
President Kenyatta who is accompanied by First Lady Margaret Kenyatta landed at the Sigonella (Military) Airbase, in Sicily mid-afternoon.
He then flew by helicopter to the Hotel Villa Sant Andrea where he is staying, arriving shortly before 4pm local time.
He is expected to deliver a speech to the 43rd G7 Summit on its final day Saturday morning.
Ahead of the summit, President Kenyatta said Kenya had paid its dues on the global stage and as the next chapter of Kenya's story begins, "the world must hear our voice."
"I want to see Kenya take it rightful place on the world stage, feeding into the multinational trade mosaic that has always been part of our fabric," President Kenyatta said in an opinion piece.
He said he had spearheaded greater regional and Pan-African cooperation as a basis for strengthening Africa's prosperity for the benefit of over 150 million East Africans.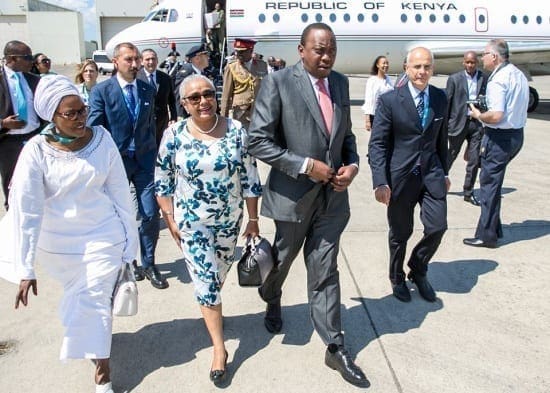 "We are working hard to cement our strategic position at the heart of global trade, underscored by enduring peace and democracy, to provide the right conditions for foreign investment. Only by opening up developing nations to the possibilities presented by markets around the world, can we elevate Africa to a status of equity with international partners."
He said his invitation to address the world's most powerful leaders at the G7 summit was recognition of the critical role Kenya now plays as that leading voice in Africa.
"Though disappointingly later than it should have been, Africa is finally taking its first real steps on the path of partnership and rectifying the historical injustices that forced its people into subservience."
He said Africa is all too often at the sharp end of the greatest challenges facing the planet – whether climate change, combatting extremism, or bridging the gaping disparity in trade that perpetuates poverty.
"It is high time a voice from Sub-Saharan Africa was given the platform our forefathers deserved, yet were so often denied," he continued.
Ahead of the meeting, EU leaders called for fairness in global issues, saying globalization should be viewed as an opportunity and not a threat.
European Commission President Jean Claude Juncker said it was time the world embraced open societies and sought multilateral solutions.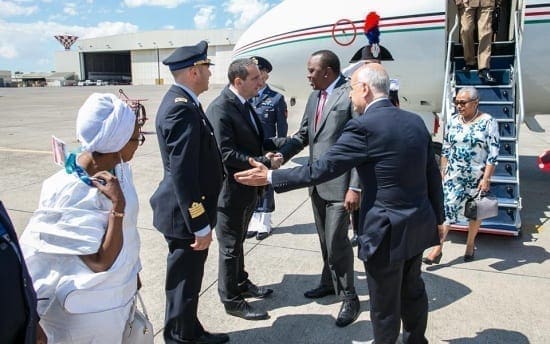 "We do believe as Europeans in open societies and are always seeking multilateral solutions. We want to build bridges and not walls," he told journalists at a news conference at the Hilton Giardini Naxos.
Juncker said global issues such as trade must be dealt with fairly.
"Around a third of our national income comes from trade with the rest of the world. It supports one in seven jobs in the European Union and for everyone billion we get in exports, we create 14 extra jobs," he explained.
Source link-capitalfm.co.ke
Uhuru arrives in Italy, to deliver landmark speech at G7 Summit