VIDEO: How Sportpesa CEO Broke the News to the Ksh 221 Million Winner
VIDEO: How Sportpesa CEO Broke the News to the Ksh 221 Million Winner
A 28 year old student yesterday burst the interwebs after hitting the SportPesa jackpot -The lucky winner's identity had been kept under wraps until the official announcement was made today .
History was made on Tuesday May 2, as Samuel Abisai, a 28-year old, became the first Kenyan to win the biggest jackpot ever in Africa's gaming history. Abisai, who at the tender age of six was already exposed to the harsh life of the streets, pushed by circumstances into hawking paper bags to survive, bagged a staggering KSh 221 million and some change, after correctly predicting the outcomes of 17 games in last week's SportPesa Mega Jackpot. He becomes the first Kenyan to win the Mega Jackpot (MJP), which was started in September 2016 at Sh100 million, which has been progressing every week since its launch.
"The win was unbelievable but was very good news to me and my family after a rough start in life," said Abisai, who hails from Kakamega but lives in Nairobi along Thika Road with his younger brother.
"When I was called by the SportPesa CEO (Ronald Karauri) in the middle of the night, I was so happy I was standing outside a petrol station jumping up and down so much so, that the boda boda operators who were close by were wondering what was happening," he recounted.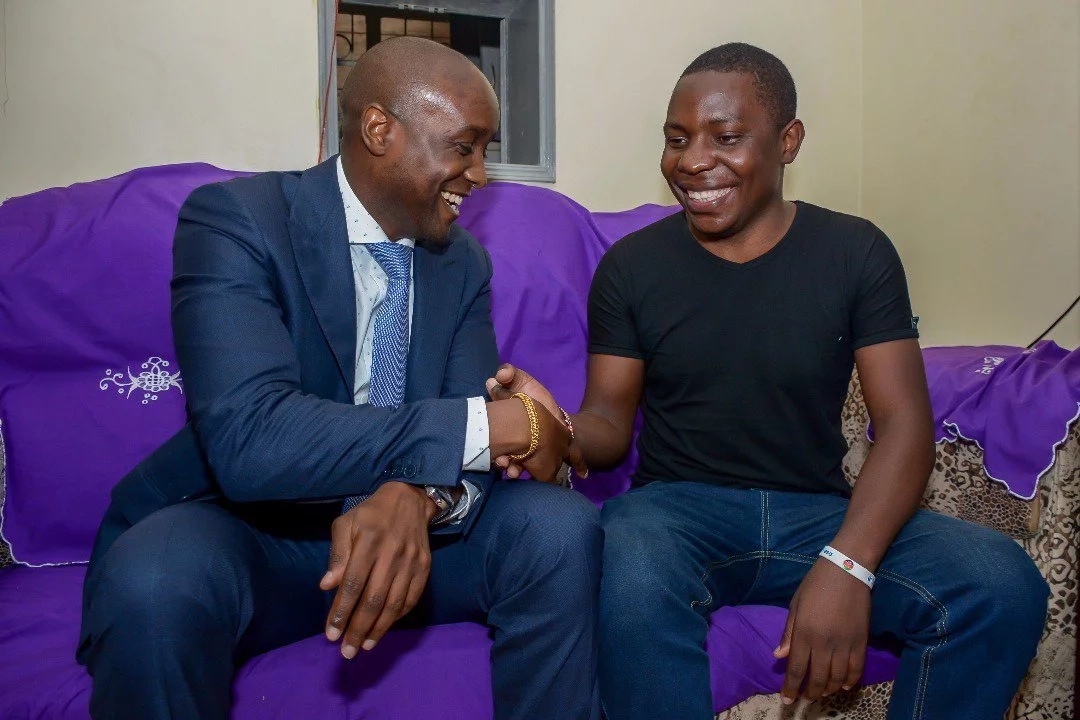 After carefully following on the outcomes of 15 matches of the MJP, Abisai said he started celebrating with friends as he had already reached the threshold for bonus payouts not knowing he will eventually win the top prize. "I come from a family of 12 – I have eight sisters and four brothers.
My life has not been easy but thankfully at some point I got help from an NGO called Compassion. I will use this win to improve the welfare of my parents and entire family," said the young Kenyan who speaks fluent Mandarin which he studied at the University of Nairobi and in China.
The winner, whose parents had to entrust him to an NGO from a young age so that he could be sponsored through school, said he will also use part of the money to expand his tailoring business which is his side hustle and seek financial advice on how to spend the rest of his fortune. Abisai had to drop his first choice of studying Economics when he joined Nairobi University despite qualifying for it, to increase his chances of getting a job so that he could help his family get out of poverty.
"When I got to university, I got a packed Economics class and thought that my chances would of finding a job would be limited given the number of students. When the university introduced Chinese when I was in my second year, I switched courses," he explained.
Abisai mostly plays the Mid week Jackpot and Mega Jackpot games used Ksh200 to place two Mega Jackpot bets, one of which has earned him Ksh221 million. He normally places his bets through the SportPesa website which he said was user-friendly. The announcement comes just days after SportPesa unveiled its agreement with the Spanish top league, Laliga.
-tuko.co.ke
VIDEO: How Sportpesa CEO Broke the News to the Ksh 221 Million Winner