Reprieve for JP's Susan Kihika as court suspends disqualification

Reprieve for JP's Susan Kihika as court suspends disqualification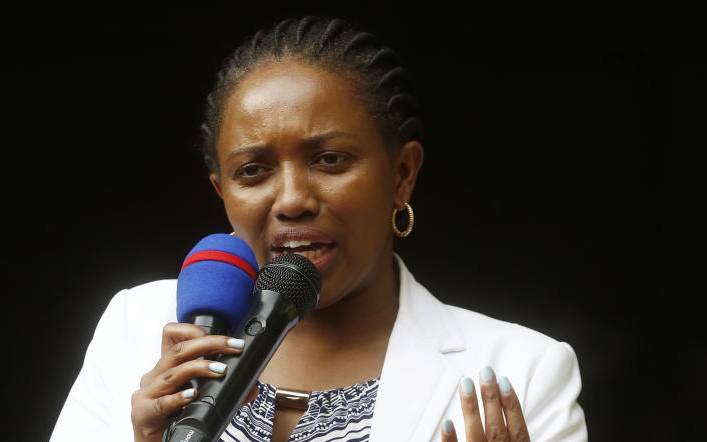 NAIROBI, Kenya, Jun 13 – The High Court has suspended the Political Parties Disputes Tribunal's decision to bar Jubilee Party candidate for the Nakuru Senate seat, Susan Kihika, from running for the post.
Judge George Odunga on Tuesday granted a stay of the order pending hearing and determination of the judicial review filed by Kihika.
"The applicant be and is hereby granted leave to apply for the Judicial Review Order of Certiorari to move into the High Court and quash the decision of the PPDT to assume jurisdiction to determine questions of constitutional interpretations outside Article 25(a) and (d) of the Constitution and a dispute between an independent candidate and a member of a political party," read the ruling.
Judge Odunga also barred the tribunal from further hearing the petition challenging Kihika's win in the Jubilee Party nomination.
"Leave is herein granted, stay of further proceedings in Petition 313 of 2017 pending before the PPDT till the hearing and determination of the motion or further orders of this court."
The tribunal chaired by Kyalo Mbobu on Monday ruled that Kihika, who the Jubilee Party nomination for the Nakuru senatorial seat, is ineligible because she failed to resign from the Office of Speaker of the Nakuru County Assembly before vying.
Mbobu also faulted the Jubillee Party for violating the law by presenting Kihika's name as its candidate for the Nakuru County senatorial contest.
Article 99 of the Constitution states that a candidate who is still a Member of the County Assembly cannot vie for MP before resigning.
The petition against Kihika was filed by Nominated MCA Margaret Wanjiru Kiiru who is vying for the seat as an independent candidate.
Kihika moved to court under a certificate of urgency, saying the IEBC's decision is prejudicial and violates her right to participate in public elections.
She argues it also threatens to violate the political rights of the people of Nakuru County to freely elect a person of their choice as Senator.
The tribunal however noted that it has no powers to stop the IEBC from processing Kihika's candidature and that the case only dealt with the constitutionality of her candidature for the Senate position
Source link-capitalfm.co.ke
Reprieve for JP's Susan Kihika as court suspends disqualification