PHOTOS: Glimpse of Nicholas Biwott's reclusive family
The mystery that characterised the life of former powerful Nyayo-era Cabinet minister Nicholas Biwott was unravelled on Tuesday after his family was revealed to Kenyans at his funeral service in Nairobi.
His family of seven children—six daughters and a son—and 11 grandchildren was laid bare but it had to take his death.
His widow, children and grandchildren spoke fondly of a man who was a mystery in life but, even in death, the finer details of the family remained a secret.
Mr Biwott was MP for Keiyo South for 28 years and Cabinet minister for 25 but had thrown an iron cordon around his family.
And even though his wife has been seen in public, especially when as minister they attended national holiday functions, this was the first time his children came to the Kenyan public limelight.
The requiem gave Kenyans a glimpse into the reclusive family and also the fact that Mr Biwott played a critical role in the formation of the East African Community in the 1990s.
He has been linked to all manner of corruption scandals and even assassinations as the epitome of the evil and ruthlessness that assailed the Daniel arap Moi regime in the 24-year one-party Kanu rule.
But as his final journey began, a new side of the man variously known as Total Man, Kernet (steel) and Maendeleo emerged.
At Africa Inland Church (AIC), Milimani, Mr Biwott was eulogised as a strong family man who was loyal to his friends and leaves behind a legacy of philanthropy.
Said Ms Hannie Biwott: "He never prided himself on his good deeds, sought to elevate himself through connections, tried to curry favour through flattery or throwing names. Till the end, he remained a humble man, never seeking recognition for his generosity."
His eldest daughter, Ms Esther Koimett described him as a fascinating man with great wisdom and the ability to be strong and cool-headed in the face of adversity.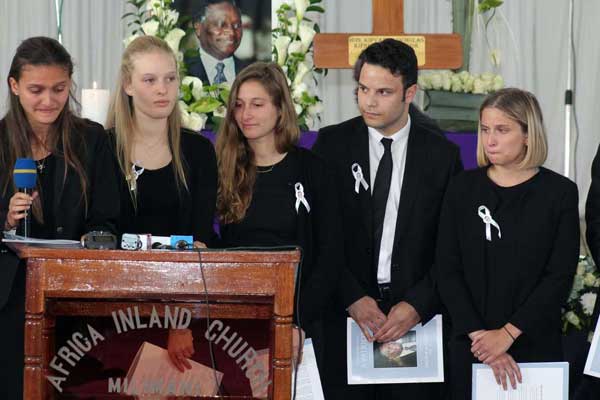 "I learnt so much from you—the way you simplified complex issues and found solutions where none seemed to exist, the way you stayed above negativity and pettiness," said the long-serving Investments Secretary at The National Treasury.
Mr Biwott's son Emmanuel said his father was a practical person who never understood why people rely on the computer.
He said: "He always tagged me along whenever he wanted me to learn something that he was doing."
But even though the family tried hard to fill the gaps and provide an image of harmony, the little details that suggested otherwise belied all these efforts that exposed an ordinary family facing the challenges of unity.
The programme portrayed Ms Hannie as Mr Biwott's only wife but the perceptions that other wives exist enveloped the church.
Professor Margaret Kamar, the former Eldoret East MP and Higher Education minister under the Grand Coalition government, was present throughout the service but there was no mention of her—even though some accounts have suggested that she is also Mr Biwott's spouse.
When Biwott's cousin only identified as Chirchir asked members of the Biwott family to step forward for introduction, Ms Kamar, who is the Jubilee Party's Senate candidate for Uasin Gishu County, did not rise.
Neither was she given an opportunity to address mourners.
Prof Kamar entered the church shortly before the service started and quietly took a seat among the family members, just behind Ms Hannie and her children.
However, she neither exchanged pleasantries with nor talked to them throughout the three-hour event.
Ms Hannie described retired President Moi as a teacher Mr Biwott met in primary school.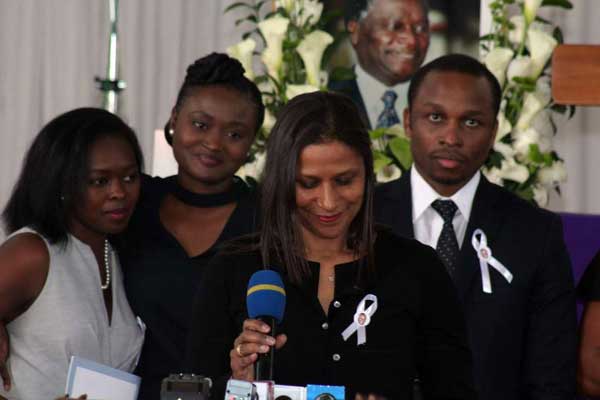 "Mr Moi, who had a high work ethic, was to become my husband's role model and my rival for Mr Biwott's love," said Ms Hannie, suggesting that she was an only wife.
"I am privileged to have been his wife for 52 years and the mother, grandmother and great grandmother of his family. It was a privilege being this man's wife."
Proof of Mr Biwott's polygamous life would however be laid bare when retired Tanzanian President Jakaya Kikwete revealed that when he received the news of Mr Biwott's death he called three of the former minister's widows to send his condolences.
Mr Kikwete, who first met Mr Biwott when both were Energy ministers in the 1980s, lauded him for his critical role in drafting and negotiating the EAC Treaty.
They would meet again in the 1990s when Mr Kikwete was Foreign minister and Mr Biwott in charge of the EAC docket.
Former Head of Public Service Francis Muthaura said Mr Biwott planted the public service seed in him in high school in the 1960s.
"He came to talk to us on careers and he left a lasting impression in me," said Dr Muthaura, who is the Lappset chairman. "I was impressed by his analytical skills and his approach to doing things."
Ms Hannie Biwott taught Muthaura history in Forms 3 and 4, the diplomat recalled.
Source link-nation.co.ke