Murembe swa Murembe te Margaret Kenyatta outdoes Muhoho by speaking Luhya
Murembe swa Murembe te Margaret Kenyatta outdoes Muhoho by speaking Luhya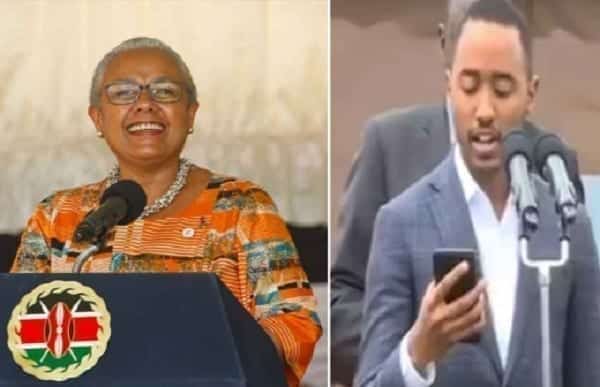 First Lady Margaret Kenyatta has excited social media after speaking in Luhya
Amused locals burst out in laughter urging Margaret on
Margaret was officiating Skip a Lunch Initiative Foundation
Weeks after social media went berserk after President Uhuru Kenyatta's son Muhuho read a Swahili speech from a phone, her mother Margaret Kenyatta has outdone him in style.
First Lady Margaret went further than the usual Swahili and English and spoke in Luhya exciting the locals in attendance.
Murembe Swa! Murembe te! Murembe mia! Called out the first lady at the function in Bungoma amidst outbursts of hearty laughter.
Yes, the first lady known for her fluent and flowery English spoke the local dialect and from the crowd's amusement, the First Lady might have outshone her son, Muhoho!
Margaret was officiating Skip a Lunch Initiative Foundation in celebration of the International Day of the Girl Child.
Muhoho Kenyatta had generated a huge following online after what had looked like a normal invite from Deputy President William Ruto to greet locals in Nandi, went viral.
Immediately Kenyans latched on the speech and birthed the Muhoho challenge as they tried to outdo each other.
Source link-sde.co.ke
Murembe swa Murembe te Margaret Kenyatta outdoes Muhoho by speaking Luhya