Safaricom Investment: Blue Bells apartments-Tastefully finished apartments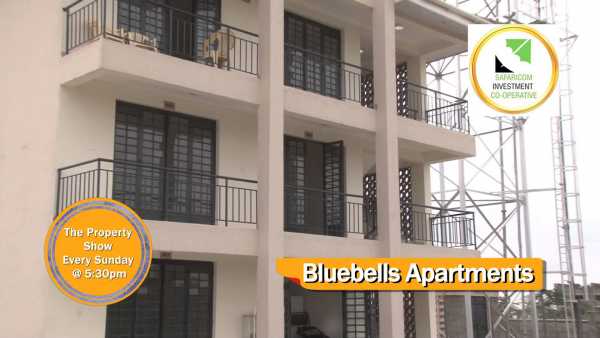 A quick overview of the Blue Bells apartments: These are tastefully finished apartments which we prefer to call home located 700 meters off Mombasa road on an all cabro Beijing road. The home allows for flexibility, growth and gives easy access to amenities served in Syokimau area. We pride ourselves in being the best option for individuals who have seen their families grow. Proper drainage system, solar street lighting, great finish, spacious rooms, windows which allow great lighting, standby generator that services the common areas and parking spaces provided for all are but a few things worth mentioning about the place.
Did we mention we were featured on property show as property of the week? This is just to say that it is a great project with great potential for you and your family.
We have phase two currently with 3 bedrooms units. Phase 1 is sold out apart from 13 units of 2 bedrooms on sale.
​ They are rented out which is best investment for clients in diaspora. Currently the rental income is Kes. 25,000 which is up for review because of the completion of SGR. These houses are in high demand with many tenants requesting for them. W
e have 1
​3​ 
units available for sale. A
 unit is sold for Kes. 6.8M, with 3% discount for cash payment(payment made 

within 3 months

)​. 
​For phase 2, we have 38 units available though we have some bookings and waiting for payments to be made.​
Below link will take you for a virtual tour of the project
 http://www.360tours.co.ke/ tours/demo/bluebells_gardens/ index.html
The 3 bedroom sells for Kes. 7.4m with 10% deposit required to start this exciting journey. We have very flexible payment terms since we understand and aim to serve our clients. Cash buyers can get upto 3% discount.



Among the key features are;





·         Exquisite finishes.





·         Gypsum ceiling.





·         Cabro paved pavements.





·         Electric fence & perimeter fence.





·         Water security with 1000litres storage per unit.





·         Standby generator for the fence and bio digester.





·         Waste water treatment.



·         Solar street lighting.
To book an apartment in Bluebells, you are required to fill in a booking form, attac
 a copy of your id, pin and the deposit slip/cheque for initial payment.