How police cornered David Ndii in Diani, Kwale County
How police cornered David Ndii in Diani, Kwale County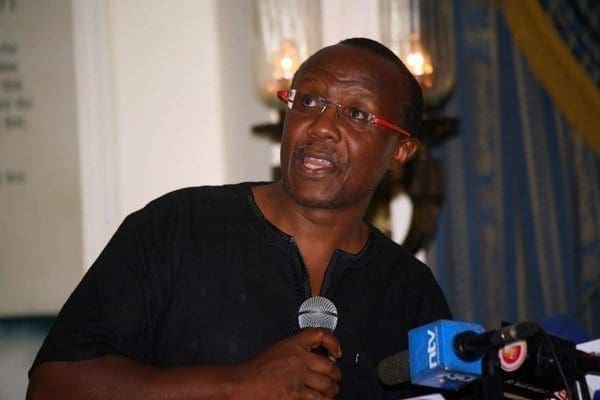 The police officers who arrested the National Super Alliance (Nasa) strategist David Ndii trailed him from Nairobi all the way to Kwale, the Nation can reveal.
Details on his arrest outside Leopard Beach Resort and Spa in Diani started emerging on Monday morning as the mystery of his whereabouts deepened.
PHOTO
According to reports, Mr Ndii arrived in Kwale and checked into Leopard Beach Resort and Spa in the company of his wife, Mwende.
Records at the hotel show that the couple were accompanied by a child and they were scheduled to check out on Monday morning.
They had travelled to South Coast to attend a wedding of their relative.
It appears officers from the Flying Squad and Special Crime Prevention Unit, who arrested the self-proclaimed 'public intellectual', do not know him well even as they trailed him from Nairobi.
They are said to have carried his photograph as they sought help in identifying the economist who has been a fierce critic of the Jubilee government.
The officers first went to Leisure Lodge, which is opposite the Leopard Beach Resort and Spa.
TIP-OFF
Here, they are said to have shown receptionists the photograph and enquired whether Dr Ndii had been booked at the hotel.
They had got it wrong. Racing against time, they left in a huff.
As they marched out of the hotel, one of the staff tipped off Orange Democratic Movement leaders in Kwale about the officers' visit.
Sources say the informer called a local lawmaker and informed her about Dr Ndii's photo in police hands.
The legislator is said to have reached out to Dr Ndii and other Nasa principals and informed them of the impending arrest.
The officers' and detectives' next stop was the neighbouring Leopard Beach Resort and Spa.
CHAT
They arrived in four vehicles and stormed the hotel as Dr Ndii headed for dinner at around 8.30pm.
Using his photo, two officers alighted and approached him.
According to Dr Ndii's wife, Mwende, the detectives requested to have a chat with him, an ask Dr Ndii attempted to resist.
"They asked him, 'are you not David Ndii?'" Mrs Ndii told journalists said in Mombasa.
They ordered him to enter their vehicle and drove off to Diani Police Station.
However, he was not booked in at the station for reasons only known to the police.
DCI
Nasa leader Raila Odinga's spokesman Dennis Onyango revealed the secret operation by the police when he announced the arrest on Twitter.
He said Dr Ndii was at the station and moments later, it was the theatre of all manner of visitors, including Mrs Ndii and Raila Odinga's daughter, Winnie.
Mrs Ndii and Ms Odinga were both arrested, grilled and released.
At around 9.45pm, several unmarked vehicles arrived at the station and Dr Ndii was bundled in one and driven to Mombasa and later to Nairobi.
He was driven to the Directorate of Criminal Investigations (DCI) headquarters for questioning.
-nation.co.ke
How police cornered David Ndii in Diani, Kwale County