Kericho family demands justice after kin killed in the US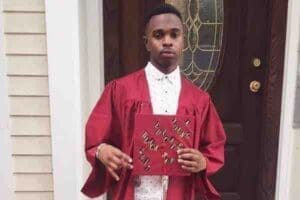 A Kericho family is grieving the killing of a 19-year old student in cold blood in the United States of America last weekend.
Mr Duncan Ketter, who made news internationally two years ago for saving a man from the jaws of death, was shot by a gunman along Orleens Marginal Street in East Boston on Sunday.
He died on the spot.
In his native Changoi Village in Belgut Constituency, the family is demanding justice.
His mother, Mrs Mary Keter, is yet to come to terms with the death.
WHATSAPP CHAT
His sister, Ms Daisy Ketter, said they received the heart-breaking news on Monday morning, just hours after she chatted passionately with the brother on WhatsApp.
"We were informed that my brother was home from church on Sunday when a girlfriend asked him out. He stepped outside his house to meet her so they could hang out with two other male friends who were in a car," narrates the sister who believes it was a setup.
But as they boarded the car, their friends demanded some $550 from the woman.
ARGUMENT
"An argument ensued as my brother tried to protect the girlfriend from being harassed by the men. A third man who was hiding at the rear emerged, drew his gun and shot at my brother in his back and chest," Ms Ketter told Nation.
The trio then pushed Ketter and his girlfriend from the moving vehicle, leaving him for dead.
"My father's instinct alerted him that all was not well after my brother failed to pick his calls. After a tiring search and even by-passing a crowd that surrounded the body, he later found himself in the hands of police who broke the sad news to him," said the grieving sister.
DRUG DEAL
Police in the US, who believe Ketter's death may have been the result of a drug deal rip-off,  have arrested a suspect in connection with the murder and the family is hopeful that justice will be served in an ongoing case whose hearing will come up on January 16.
According to a local media report, prosecutors said the suspect allegedly brought Ketter and a woman into a vehicle to exchange bhang for cash.
Mr Keter has been living in the US for the last ten years with his father.
He had just graduated from high school and had landed a scholarship to join college when death struck.
CONDEMNED KILLING
Kericho Governor Paul Chepkwony condemned the shooting and sent condolences to the family and friends.
"It is a shocking and unfortunate end to the life of a promising young man who only two years ago was praised by the US media as a hero after saving a man nearly crushed to death by a train," said Prof Chepkwony.
"I pray that God grants the bereaved family both in Belgut, Kericho and Boston, USA sufficient grace to weather the storm of grief for losing their only son," he said.
Mr Ketter, was two years ago celebrated worldwide after he saved the life of a man who had fallen on a train track. The man, who was in a celebratory mood after landing a promotion, had drunk too much and was unable to move from the railway tracks. My brother jumped out of the train and moved him before climbing back," said the sister.
"My brother is usually reserved and takes long before he responds to chats. But on Sunday night to Monday morning, Kenyan time, we chatted a lot. The last message he sent was at 1.31am saying "I really miss you guys, I am coming home, and planning to do a get- together," said Ms Chepkirui.
Plans to have the body flown into the country are ongoing with funeral set for mid-January.
-nation.co.ke