Raila planned swearing in will be high treason-AG Githu Muigai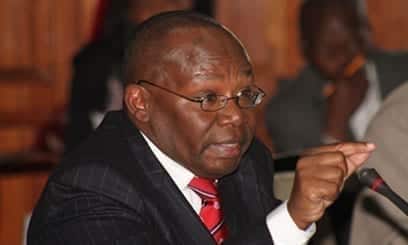 Leader of National Super Alliance (NASA) Raila Odinga and his deputy Kalonzo Musyoka risk arrest and prosecution if they proceed with their planned December 12 swearing in, Attorney General Githu Muigai has noted.
"A swearing in of any person not lawfully declared to have won an election by the Independent Electoral and Boundaries Commission and that is not done by the Chief Justice of the Republic of Kenya is null and void ab initio, "said the chief legal adviser to the government.
He maintained that such a move will be a breach of the constitution since the country has a sitting President who recently took oath of office.
"The criminal law of the Republic of Kenya stipulates that this sort of process is high treason. It is high treason of the persons involved and any other person facilitating that process," he said.
NASA have expressed plans to swear in Raila Odinga using the August 8 poll results at an undisclosed venue.
Professor Githu Muigai warned the opposition of dire consequences if they proceed with their audacious plan as they will be in violation of Article 3(2) of the constitution, obligating everyone to uphold and respect it.
People's Assembly illegal
Against the backdrop of 12 counties passing bills to allow for the formation of the People's Assembly, the Attorney General has declared them illegal.
-standardmedia.co.ke