I will not sabotage Laboso, says Isaac Rutto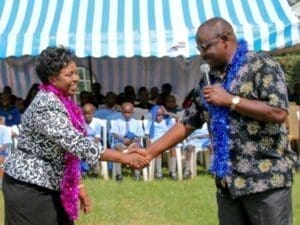 Bomet Governor Joyce Laboso shared a stage for the first time since her swearing-in with her predecessor Isaac Rutto and agreed to bury the hatchet.
Rutto said he has accepted the change of leadership and said he is available to offer Laboso support to take the county forward.
He said he will not interfere in the running of the county.
"Count on me. I will not interfere with your leadership. It is your time to lead and I will only come in to support where possible," Rutto said.
The two met during a thanksgiving and Prize-giving Day at Chelsa Academy on Saturday.
Rutto said his loss should not be interpreted to mean there is enmity between him and Laboso. "It is a normal competition and there is always a loser," he said.