NASA: We asked Raila to explain himself on his Friday deal with Uhuru
NASA: We asked Raila to explain himself on his Friday deal with Uhuru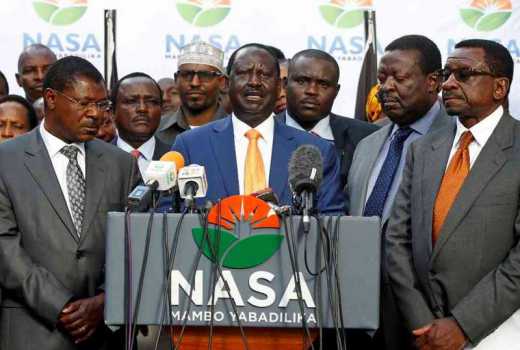 Opposition leader Raila Odinga has briefed NASA co-principals; Kalonzo Musyoka, Musalia Mudavadi, and Moses Wetang'ula about his pact with President Uhuru Kenyatta on Friday at Harambee House, Nairobi.
In a statement about today's NASA summit at Stony Athi, Machakos County, ANC Party leader Musalia Mudavadi said that Raila explained in detail and answered all questions about the Friday pact.
"We heard from Raila Odinga on his meeting with President Uhuru Kenyatta. We listened and asked questions. He explained what was discussed," said Mudavadi.
Mudavadi said that NASA supports constructive dialogue to address issues ailing the country such as; electoral injustice, inclusivity, insecurity, poverty, challenges to devolution, and attacks on independence of the Judiciary.
Addressing reporters in Athi River on Monday evening, the ANC chief said that they would brief constituent parties of their discussions.
"Following these frank and candid discussions members of the summit will now proceed to brief the organs of the constituent parties to bring them up to speed. You must always remember NASA is a coalition of political parties and their structures must be taken into account and they shall be briefed on the discussions and their input will also come through," said Musalia.
He said an elaborate briefing would be given to Kenyans on the matters addressed. He, however, did not give a specific date.
"A more elaborate briefing will be given to the media and indeed the nation in the coming days. Basically that is the statement. We shall be retreating to ensure our individual parties, political organs are brought up to speed so that these issues are discussed and at the subsequent summit meeting we shall break it down on the issues we have talked about today," Mudavadi added.
The Athi River parley comes in the wake of distrust among pitting Kalonzo, Musalia and Wetang'ula after Raila's parley with the President on Friday.
Reacting to the pact, the trio distanced itself from the Harambee House talks describing them as an affair between two people but not institutions.
The trio and the President's lieutenants were nowhere to be seen at Harambee Hose underscored the secretive nature of the talks.
Deputy President William Ruto described them as manifestation of statesmanship while Jubilee Majority Leader Aden Duale also praised them.
Visiting US Secretary of State Rex Tillerson also praised the two politicians.
Bad blood between Raila and his NASA bedfellows came out to the fore after they missed his controversial 'swearing-in'' on January 30 after which they were accused of cowardice and betrayal.
NASA strategist David Ndii on Monday suspended the People's Assembly agenda.
In a political twist that showed Friday's rapprochement between Uhuru and Raila was bearing fruit, Dr Ndii who is also the Steering Committee chair of Opposition NASA, announced the dissolution of the People's Assembly process saying it was found appropriate upon request.
The People's Assembly was launched late last year by NASA to steer forward the people's agenda and force electoral reformS ahead of Raila's 'swearing-in'.
Ninenteen counties had already passed legislation to put the assemblies in motion.
Speaking exclusively to KTN NEWS, Ndii said the sole purpose of the suspension was so "they could reason together and give unity an opportunity," acknowledging the country had suffered ethnic polarisation since the August General Election.
However, NASA will not stop fighting for electoral reforms and forging ahead with the people's agenda as was made clear by the coalition's principals," said Ndii.
After the disputed polls, the country was thrust into a political stalemate with neither of the two major coalitions, Jubilee and NASA willing to give dialogue a chance to move the country forward.
NASA: We asked Raila to explain himself on his Friday deal with Uhuru