Waititu sacks man who helped him defeat Kabogo
Waititu sacks man who helped him defeat Kabogo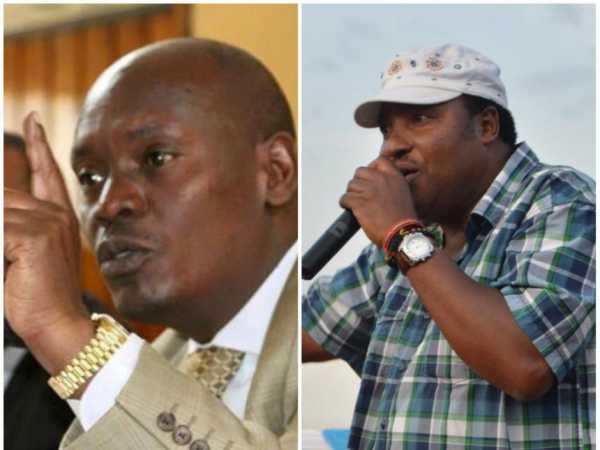 Kiambu Governor Ferdinand Waititu has sacked Water, Environment and Natural Resources Executive John Mugwe.
Mugwe's sacking comes after the governor sent him on a 30-day compulsory leave.
Prior to his suspension, Mr Mugwe had on April 3 been transferred from the Roads, Transport and Infrastructure docket to the Water, Environment and Natural Resources department.
His sacking came even before the lapse of the 30 days stipulated in his suspension letter.
Waititu, in a letter addressed to Mugwe and dated May 8, accused him of incompetence and not being a good team player.
"As a Member of the County Executive, one is expected to develop polices, action plans and other strategies to ensure that overall objectives of the county government are achieved. Unfortunately, I have observed that you are not keen on delivering on your responsibilities, nor is your immediate focus the service delivery to the residents of Kiambu County. You are also not a good team player, which is affecting the overall performance of your responsibilities and that of the county government as a whole," read the letter in part.
Already, Waititu has announced his intention to nominate former Ngewa MCA and senatorial aspirant Karungo Thangw'a as Mugwe's replacement.
On Wednesday, Speaker Stephen Ndichu notified MCAs through a communication from the chair that the governor was proposing Mr Thangw'a as the next executive member.
Thangw'a was a close Waititu ally before they fell out after the April 25, last year Jubilee Party nominations, where the former failed to dislodge Senator Kimani Wamatangi in the senatorial race. However, in the last few months, the relationship between the governor and Thangw'a appeared to have improved, especially after the latter took a low profile preferring not to interfere with county affairs.
Last year Mugwe shelved his ambitions to be Kiambu governor in favour of Waititu. Others who shelved similar ambitions to back Waititu for the seat are deputy governor James Nyoro, David Ngari, alias Gakuyo, and Aquiline Njoki.
The group formed a movement dubbed 'United for Kiambu', which eventually trounced William Kabogo in the Jubilee Party primaries
By Kamau Maichuhie
-standardmedia.co.ke
Waititu sacks man who helped him defeat Kabogo