Wisconsin woman discovers neighbor is her long-lost sister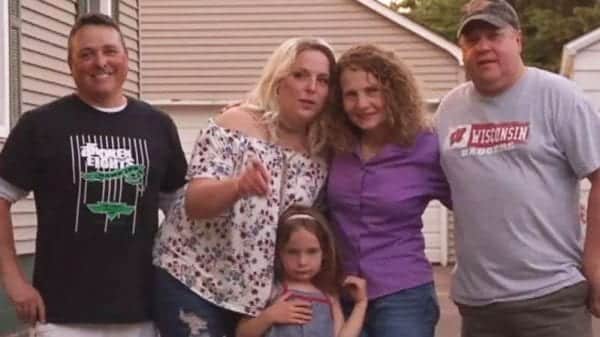 People frequently use the expression "it's a small world" to signify coincidences large and small — they bump into someone from their hometown in a far-off place, learn their dentist was a childhood friend of their father or end up sitting next to a co-worker at a Green Bay Packers game.
But few small-world tales can match the serendipity experienced by Eau Claire residents Hillary Harris and Dawn Johnson, who were next-door neighbors — literally sharing the same driveway in a hometown they both adopted — when they discovered they are long-lost sisters.
The story began in January 2017 when Dawn and her longtime partner, Kurt Casperson, decided to move from Greenwood to Eau Claire. After months of searching for houses, they submitted an offer on a small cottage-style "fixer-upper" on the west side.
For various reasons, the closing was postponed three times, and Kurt was ready to give up. Dawn persisted.
"There was just something about this house that I liked," said Dawn, who grew up in Loyal.
After the deal finally was completed in late June, Dawn and Kurt set to work on fixing up their new home. At one point, the neighbors with whom they shared a driveway, Hillary and her husband, Lance, stopped by to introduce themselves. The meeting was polite but uneventful.
The first hint of anything unusual came when Hillary's preschool-age daughter, Stella, kept visiting the new neighbors, especially Dawn, and liked to have "ready-set-go" races in the driveway.
As the mother of two boys, Dawn enjoyed the opportunity to interact with a little girl, but Hillary acknowledged her daughter's steady contact with the little-known lady next door made her uncomfortable.
"I was annoyed by it to be honest. I'm like, 'Stella, just stop. What if they don't even like little kids?'" Hillary said. "But Stella was just so drawn to her."
Meanwhile, Hillary, who was adopted when she was more than a month old and grew up in a loving household in Elmwood, continued her quest to find the rest of her birth family. After being curious her whole life, Hillary recalled exploring ancestry.com while attending UW-Eau Claire in hopes of uncovering clues to her roots.
In 2012, when she was pregnant with Stella, Hillary took the step of asking her adoption agency, Catholic Charities, for any information it could share about her birth family so she would know her family health history, the Leader-Telegram reported. Because it was an open adoption, the agency sent her a packet of documents, including a touching letter from her mother explaining that she was single and didn't feel she could give Hillary (the name on her original birth certificate was actually Jodi) a proper upbringing.
The packet included an obituary for her father, Wayne Clouse, who died in 2010, and the names of two half sisters who shared the same father. She tracked down two half brothers from her birth mother's side of the family through Facebook in 2015, but her search for the sisters kept hitting dead ends.
Hillary spent hours doing searches for a "Dawn Johnson" in Greenwood in hopes of seeing someone who looked like her but to no avail.
When Hillary learned last year that her new neighbor was from Greenwood, it aroused suspicions, but Hillary didn't even know Dawn's last name and didn't want to jump to conclusions.
"I never wanted to pry and ask her last name," Hillary said, recalling that she routinely would look at Dawn's curly hair when they were together and wonder if that's what her hair might look like if she didn't straighten it.
Besides, she thought, what are the chances the woman next door could actually be her missing sister? Surely, that was too far-fetched to be true.
Hillary's search came to a dramatic conclusion "that beautiful day" last August when she glanced up their shared driveway and saw that Menards had delivered a stack of shingles for Dawn and Kurt, who were redoing their roof. Printed across the stack, on a big, red banner, were the letters "J-O-H-N-S-O-N."
Hillary could scarcely believe her eyes. To her, the banner was confirmation that her new neighbor was Dawn Johnson — the sister she had been searching for.
"I said, 'Oh my God!' and then I called Lance right away," Hillary said. "I told him, 'Her name is Johnson. It's Dawn Johnson. She's from Greenwood. It's got to be her.'"
Still, she was reluctant to immediately spring the news on Dawn because she didn't know how it would be received. A couple of days later, when it was too rainy for Dawn and Kurt to work on their roof, the two couples were standing in Dawn's garage when Hillary started acting strangely — staring at Dawn and getting uncomfortably close for just neighbors.
"I was going batty because I knew the truth, and Hillary hadn't said anything yet," Lance said, "and yet I knew it wasn't my place to be the one to say it."
That night, Hillary texted Dawn: "Your name is Dawn Johnson. Were you the Loyal Corn Fest queen in 1983?"
Slightly irritated because her neighbor appeared to be joining the parade of people who like to make fun of her brush with regional royalty, Dawn confirmed that bit of personal history. Then Hillary sent another text asking the name of Dawn's dad. When Dawn replied that it was Wayne Clouse, Hillary texted: "We have a lot to talk about. Can I call you?"
Then Hillary called and began by saying, "Do you remember how I told you I was adopted?"
But before Hillary could get any further, Dawn blurted out, "You and me have the same dad, don't we?"
With the mystery out in the open, the newfound sisters — technically half sisters — talked for a long time that night, and the next morning Dawn showed up with flowers on her neighbor's doorstep.
Whenever they share the story, people are astonished. Even the couples can't find enough superlatives to adequately describe the degree of coincidence involved in their discovering each other.
"Just incredible," Kurt said.
"Simply unbelievable," Dawn said.
"Just crazy," Lance said.
"Hard to comprehend," Hillary said.
Since the revelation, Dawn, 50, and Hillary, 31, have been busy making up for lost time. In forging their new sisterhood, they've been sharing holidays, birthday celebrations, meals, household goods and lots of laughs.
"I can feel the love," Hillary said, occasionally referring to Dawn as "Big Sis" during a recent driveway gathering.
They also share a special bond with Stella, now 5, who has stayed overnight at her new aunt's house several times and just last week didn't want anybody but Dawn to remove a painful sliver in her foot.
Stella likes to see Dawn every night, even regularly FaceTiming her from the other side of that fateful asphalt driveway. "Dawn-ald Duck" is Stella's nickname for her aunt, eliciting giggles at its mere utterance.
The connection with Dawn has provided Hillary with a rare glimpse into her previously unknown family history. Not only did Dawn share photos of their birth father, but Hillary found that she and her father also shared a love for Tabasco sauce.
The sisters marveled at the resemblance between Stella and a childhood photo of Dawn.
"It looks just like Stella," Hillary exclaimed as she pointed to the old family photo.
For Hillary, the successful search yielded answers to questions that had nagged at her for years — Dawn introduced Hillary to her other missing half sister last fall in that same fateful shared driveway.
"It definitely filled a void in my life," Hillary said.
For Dawn, who didn't even know she had a missing sister, the untangling of the tangled family web has brought her great joy.
"We don't care about the tangles so much, but we like how it turned out," Dawn said. "This whole time since we found out has been so much fun. We've been making memories."