Death Announcement For Virginia Wanjiru, mother of Joyce Thendeu of California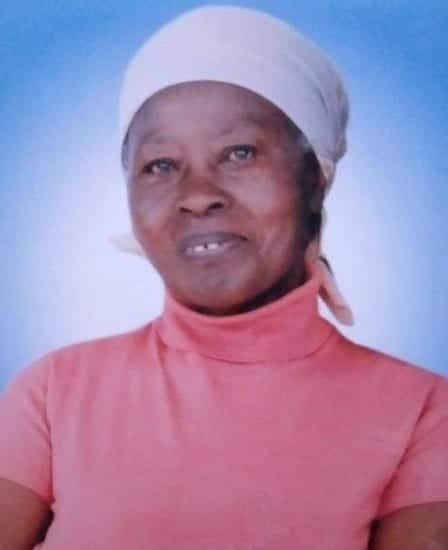 Death has occurred of Virginia Wanjiru Thendeu,wife of George Thendeu Ithongo of Kanyariri Kiambu. She was the mother to Victor Ithongo Thendeu of Kenya,Joyce Wangechi Thendeu of Anaheim California, Rose Wanjiku Thendeu and Eddah Wambui Thendeu of Germany and the late Helen Wangare Thendeu.
She was daughter of the late Joyce wangechi Thuku of kirigiti. sister to Margaret Njeri Kimani(Washington, Seattle), Anthony Thuku, Pauline Wangari Mukirai, Lucy Muthoni Kinuthia, Elizabeth Wangui Mbugua, and the late Doris Wambui, Rosemary Njambi Kuria, and James Ngige.
Mother in law to Rachel Wambui Ithongo,  Grandmother to Edward Ngugi Gichuru, Eunice Wanjiru Gichuru, George Thendeu Ithongo, Virginia  Wanjiru Ithongo, Helen Njoki Ithongo, Miriam Wangari Ithongo, Jeremiah Thendeu, Marvin, Virginia Lena Berner. Great grandchildren Joyce Wangechi and Jerome James.
 Virginia  started ailing in 2015 and have been receiving treatment in various hospital's; Coptic Hospital,  Guru Nanak Hospital. Her health deteriorated after two admissions at Guru Nanak Hospital in the months of May and June, she passed away in the early morning June 30, 2018.
She was an amazing and loving wife, mum, grandmother(cucu), great grandmother, and sister. We will always cherish your lessons, memories,  and most of all your love.  We will dearly miss you, but we thank the Almighty God for the times we shared. What more can we say. God's will was done. You are now with the Angel's. Till we meet again.
Funeral and memorial service will be at ACK Emmanuel Church, Muthure, on July 13, 2018, burial will at Gatonga farm (Gitaru)
For more details,kindly contact:
Victor Ithongo- 0707 032 833
Joyce Thendeu- 0722 818 815

Africa Welfare Association is a pioneer provider of services to it's Diaspora members in the event of loss of a loved one. We are entrusted with the welfare of the African Diaspora globally.
We are entrusted with the welfare of the African Diaspora globally. AWA was set up in response to the ever-growing demand for services at a critical time. With trusted partners, AWA will offer you benefits wherever you are in the world.
Alleviate stress with AWA
At some point, we have been with a grieving family or friend and come to learn that none of us are ever prepared to leave this world. When the time comes, we shall leave everything including our loved ones behind. With proper planning, you can alleviate the burden of the expense associated with your untimely departure at a time when your family and loved ones are grieving
Death Announcement For Virginia Wanjiru,mother of Joyce Thendeu of California