How millions are changing hands as media personalities switch loyalties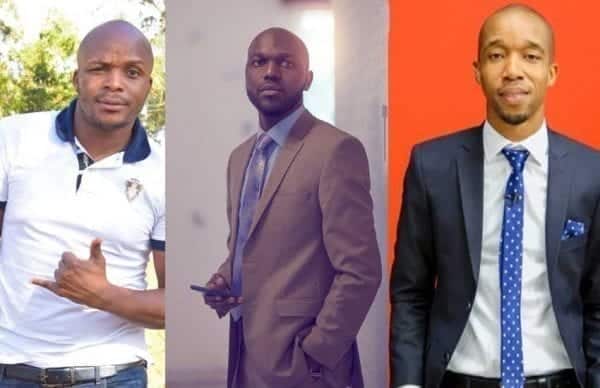 Barely three months since they first joined Milele FM, radio bigwigs Billy Miya and Mbaruk Mwalimu have made their switch. Tune in to Radio Maisha, ranked as one of the leading radio stations in the country, where the duo made its debut on Monday.
It has been a month when the airwaves have been stirred as never before with shake-ups, build-ups and re-launches hitting local stations.
Who would have thought that after making an exit from Radio Maisha, Alex Mwakideu would been making a reunion with Jalang'o his co-presenter of many years, who also left the Hot 96 FM station this week.
"Thanks Fam… I got nothing but love for all of you… Hard decision to make but so here we are! A great one year, four months of us. God bless you guys… the struggle continues on my side. Thank you," Jalang'o wrote as he penned off.
Jalang'o left Radio Maisha about a year ago to join veteran media personality Jeff Koinange, paving way to Kazungu Matano aka Captain Otoyo, who as controversy would have it had left Milele FM.
The future of Otoyo's radio career is not known.
And that wasn't the end of the musical chairs. To the surprise of many, Royal Media got one of their celebrated TV hosts, Ann Kiguta, on to radio where she joins Patrick Igunza in the Hot Drive show on Hot 96 FM. Christian radio unit, Kubamba, which has been fighting for recognition also got caught up in the dance, bidding farewell to its Morning Show presenter Tina Nzuki.
There is also Fridah Mwaka from the same station who could be on her way out. Fridah hosted the afternoon show Jikoni with audio producer Saint P.
The new transfers and realignments have seen one of the biggest shift we have seen on local radio ever during a time when the media space is reshaping, a move that has also seen many changes on TV.
And it is not just about moving. The changes are big money bargains that have leading media houses flex muscles for the big shots. Pulse has confirmed that some of the top presenters being fought for are already earning over Sh1 million per month with their contracts extending to three years.
One of the guys who made a switch recently is now going to be earning Sh750,000, three times what he was earning at his former station.
On the flip side, heavy hitters like Munene Nyaga, Edward Kwach, Fareed Khimani and Muthoni Bwika's careers came to an end as a result of the migration.
Other big names like Sheila Mwanyiga, Teddy Muthusi and Papa Shaq remain in oblivion after their exit from the scene.
 The migration shall be televised
The new wave has also hit TV stations. Among those who have made major moves in the last few months include Pamela Asigi, Jamila Mohammed, Rashid Abdalla, Enock Sickolia, Victoria Rubadiri and Nimrod Taabu.  There is also Yvonne Okwara and Mashirima Kapombe as well as award-winning journalist Asha Mwilu.
Larry Madowo, who was the Technology Editor at NTV, left the station for BBC where he is the station's Africa Business Editor. He is joined by Hudheifa Mohammed who was a business anchor at NTV, Zawadi Mudibo who was the Business Editor at K24 and Peter Mwangangi who was NTV's coast multi-lingual reporter.
Others following Larry to the BBC are Maya Hayakawa and Sharon Machira. Maya who was a news anchor at K24 is said to have been lured by the expansion of the British broadcaster, which also comes with a fat paycheque.
Word has it that negotiations by K24 and a double raise to her salary couldn't convince her to stay.
Power in numbers
Besides what some have referred to as 'media wars' it is obvious that besides career growth, one of the biggest motivation for the criss-cross is the big pay offers arguably out of the big following and the numbers some media personalities command.
"It is true that one has to think about career growth. I have been at Radio Maisha for eight years and I think I have given it my all and so, it is time for me to try something new," Mwakideu told Pulse.
"It rather obvious that there is also the money aspect. A better package means better prospectors so why not take advantage of the opportunities that come your way," he remarked adding that one's fan-base will always switch and get one on a new frequency if they truly tuned because of him or her.
Arguably because of the online following she commands and in a bid to spice up it's following in the morning, NTV has hired fashion blogger Sharon Mundia. Starting Monday, she will be the host of the morning show called This is Ess, which replaces Kobi Kihara's 'Better Living'.
Kobi took a sabbatical to the United States. Sharon is one of the vloggers with the largest following on YouTube in the country with her videos attracting hits that some musicians can only dream of. She also works for Capital FM with Susan Wong, which also puts in focus Amina Abdi, Anita Nderu and Tracy Wanjiru who all work together on The Trend.
Tracy Wanjiru also hosts Teen Republik on NTV and works alongside Anita and Ann Mwaura on Capital FM's evening show, Hits Not Homework.
"I really don't care when presenters migrate from stations. It gets confusing having to accustom myself to the new stations," said a Pulser.
Another one shared the same sentiments insisting that "consistency in radio presenters and their shows helps build a loyal fan-base as they cited the longest serving radio shows duo of Maina Kageni and Mwalimu Churchill and Willy Tuva as an example.
According to a radio producer who prefers to remain anonymous, station shake-ups are detrimental to people's careers.
"When a presenter creates a loyal brand then shifts stations, only a small portion of their fans move with them. He starts building a new fan base altogether. It gets worse if he had paired up with another presenter or comedian and the two split as a result of the migration. That is why the careers of many presenters have come to an unexpected halt never to rise again. This sometimes has not only affected station performance but also cost careers."
The source, however, admits that current presenters are using their social media numbers to bargain their net worth.
"Many are going to an extent of buying users and using social influencers to handle their pages. You either post controversial, weird or downright funny posts to attract numbers to your pages." However, as the media wars intensify and the migrations settle it will be interesting to watch the raging wars take shape to either give birth to formidable unions or shaky regrettable careers.
 Power brokers
Behind this lucrative moves, there is reportedly a dark side. It is alleged that there are powerful and influential media house insiders who give tip-offs to those on the move or targeted for a move. These figures are deep within the system and are privy to plans every that a station will take.
In some cases, our sources have it that the said powerful individuals tip those targeted for the move in secret meetings and advise them what to ask for in terms of salary. These figures also help stations scout for talent, stipulated time and their replacements if their current employees leave.