What We Know About Barack Obama's Luxurious Private Jet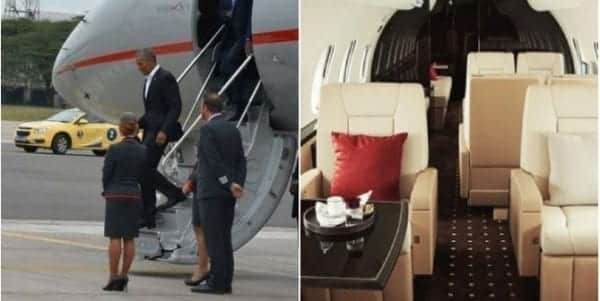 Unlike Obama's visit to Kenya in 2015 when he was the sitting President, his highly anticipated return over the weekend was a low key and private affair.
When he arrived on Friday, July 24, 2015, Obama was accorded all the perks that come with being the leader of the world's superpower. That included arriving in the spectacle that was the Air Force One, a Boeing 747.
But on Sunday afternoon, July 15, 2018, the son of K'Ogelo, as he is fondly referred to in Kenya, touched down in a private jet, owned by Swiss company VistaJet.
VistaJet owns and operates the largest privately owned Bombardier business aircraft fleet of branded private jets, recognizable worldwide by their distinctive silver and red striped livery.
The global business aviation company has over 70 large-cabin Bombardier Global and Challenger private jets and is owned by billionaire businessman Thomas Flohr.
In addition to boasting understated, elegant interiors that encompass in-flight offices and home away from home environments, VistaJet cabin crew are trained by the British Butler Institute. They are taught to discreetly keep tabs on each customer and update their files with details of their preferences.
According to American business magazine Fast Company, food and drink options in the aircraft include VistaJet's own branded caviar, a Nobu menu, and renowned mixologist Simone Caporale's global-inspired cocktail collection.
VistaJet clients like Obama are also entitled to a sleep preparation program, where they receive special pajamas and relaxing herbal teas prior to resting on Egyptian cotton linens, feather duvets, and cashmere blankets.
VistaJet Creative Director Nina Flohr told Fast Company: "They're busy people, they're always on the go, so what we're trying to capture with our cabin experience is that home away from home."
"For example, if the crew notices that a customer prefers Moroccan mint tea, they will ensure that there is mint tea available on the passenger's next flight. The crew will even note how the passenger likes it served: with sugar or without? These are little things that are not spoken about, but are noticed and used to build that customer's profile," said Nina.
In an interview with BBC, Thomas Flohr disclosed that the company only uses the newest and most luxurious planes and it will fly to anywhere in the world no matter how remote; a major contributor to its success.
By Richard Kamau