DMV Golf Tournament: Safari Golf  for Labor Day weekend Festivities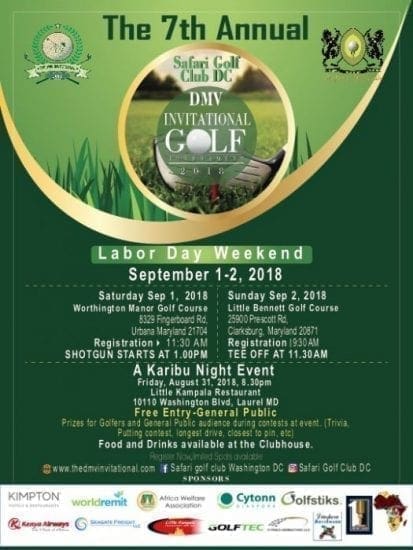 DMV Golf Tournament: Safari Golf  for Labor Day weekend Festivities
Golfers in the Safari Golf club franchise in the United States (U.S) and Canada will congregate in the Washington DC Metro area, for the Seventh Annual DMV Invitational Golf Tournament. This is the biggest golf tournament of Kenyan community in North America and is sometimes loosely called the Safari Golf "Masters". The Labor Day weekend event takes place at the Worthington Manor Golf Course on September 1 and Little Bennet Golf Course on September 2, 2018. This tournament is the last National Safari Major of 2018 after the Las Vegas 7s Tournament in March, Dallas Memorial Day tournament in May, and the Jamhuri Classic in Atlanta in July.
The DMV Invitational Golf event hosted by the Safari DC Golf Club kicks-off with a Karibu Night dinner on Friday, August 31, 2018, 8.30pm at the Little Kampala Restaurant located in Laurel Maryland. The Games on Saturday, September 1, 2018, will be at the Worthington Manor in Urbana, Maryland commencing at 1.00pm with a Shotgun start with the dinner and award presentations set for 6.30pm. On Sunday, the events at Little Bennett Golf course tee off at 11.30am. His Excellency Ambassador Robinson Githae, the Kenyan Ambassador to the United States, will preside over the dinner and awards presentation in the evening at 6 pm.
The DMV Invitational Golf tournament started off as a small group of friends meeting annually to catch up and enjoy a good game of golf. The first golf tournament, which would later become the inaugural event, was played by eight participants back in 2012 at Renditions Golf Course in Davidsonville MD. In 2015 it was introduced in the Safari DC calendar and quickly became the marquee tournament of the club. The DMV Invitational was introduced as a National Major in 2016 and it quickly became one of the highly attended golf event among the Kenyans in the diaspora. In 2017 the DMV Invitational broke records and became the biggest golf tournament in North America hosting over 100 players in the two day event.
This year's event will draw golfers from throughout the U.S. including participants from the diplomatic missions in Washington DC, representation from the sports ministry in Kenya and the African diaspora community in the U.S. It is open to all. Based on early registrations, the tournament is expected to have its most substantial participation of any year to date. To register and for more details, please visit the website at www.thedmvinvitational.com for more information.
The event has experienced an increase in both individual and corporate sponsorships. Sponsors and partners include Africa Welfare Association, Cytonn Diaspora, Swahili Village Restaurant, Worthington Manor Golf Course, Oak Creek Golf Course. New sponsors this year include Kimpton Hotels, World Remit, Golfstixs, Golf Tech, Seagate Freights LLC, Milligan Golf, Cortez Cigar, One Mic Show, Cypace Marketing, Fete En Apreme and Diaspora Messenger. It is not too late to sponsor the event, for sponsorships, please contact Cypace Marketing by email on [email protected]
More information: Contact Safari DC Captain Ken Macakiage 214-724-3072 or Vice Captain Peter Njeru 410-900-5106
DMV Golf Tournament: Safari Golf  for Labor Day weekend Festivities
More Details contact: [email protected]