Marital Union Should Be A life-Lasting Relationship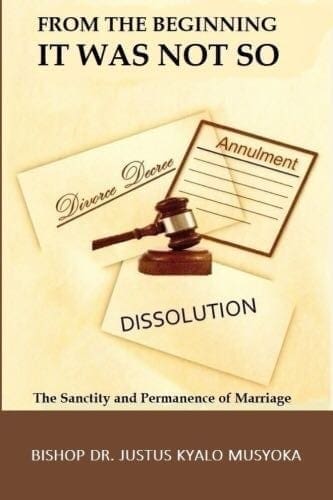 From the Beginning it was not so: The Sanctity and Permanence of Marriage
The Bible presents marriage as a life-long heterosexual union of one man and one woman. Despite the fact that Moses, in the Bible, allowed Israelite men to divorce their wives, the clear biblical teaching is that the marital union should be a life-lasting relationship and that divorce is an anomaly.
Again, despite numerous biblical incidences of polygamy, involving even men and women who closely walked with God, the concepts of one man marrying more than one wife; one wife marrying more than one man; a man marrying another man; a woman marrying another woman; and a group of men and/or women supposedly all being in one marriage, are all notions that are completely estranged from the biblical ideal for marriage.
The book, From the Beginning It Was Not So, is an argument for the sanctity and permanence of marriage as presented in the Bible.
Author- Bishop Dr. Justus Kyalo Musyoka
Click here to buy- https://www.amazon.co.uk/Beginning-was-not-Sanctity-Permanence/dp/197802214X