Uhuru is first Kenyan president to have female Aide-de-Camp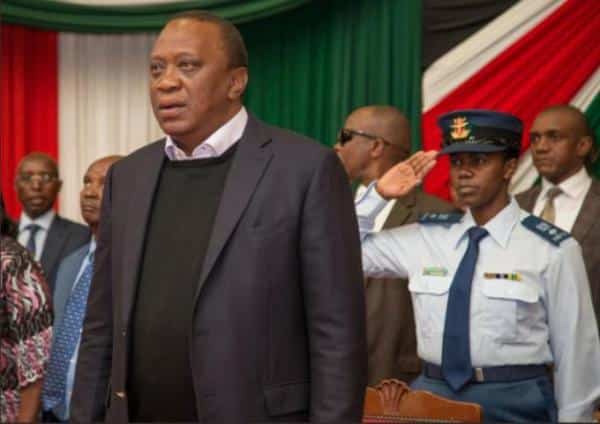 President Uhuru Kenyatta has made history as the first Kenyan Head of State to have an assistant female Aide-de-Camp (ADC): Rachel Nduta Kamui.
Lieutenant Colonel Kamui was spotted for the first time at State House, Sagana on Friday.
"President Uhuru Kenyatta at the Kenya Music Festival Winners' State Concert. On duty is the new Assistant ADC, Lieutenant Colonel Rachel Nduta Kamui, from the Kenya Air Force who will be working alongside Lieutenant Colonel Timothy Lekolool," State House said on Twitter.
On Friday, Kamui was seen behind the President alongside Colonel Timothy Stelu Lekolool, who recently took over from Lt Col Victor Mburu.
Mburu, who had been President Kenyatta's Aide-de-Camp since August 2017, was replaced after he left to pursue further military studies.
Kamui serves on the Kenya Air Force and will assist Lekolool with his duties that are tied to matters security, protocol and military tradition.
The role of an ADC entails guarding the president: it is mostly a ceremonial role, serving as a symbol of dignity for the presidency.
The ADC is a highly-trained, senior military officer, required to be part of the president's itinerary at all times.